Rare Hexagonal Steel-Sportwatch DaVinci SL, Beyer DoubleSigned
IWC Hexagonal DaVinci SL Sportwatch, Beyer DoubleSigned, Jumbo Ingenieur-Bracelet
---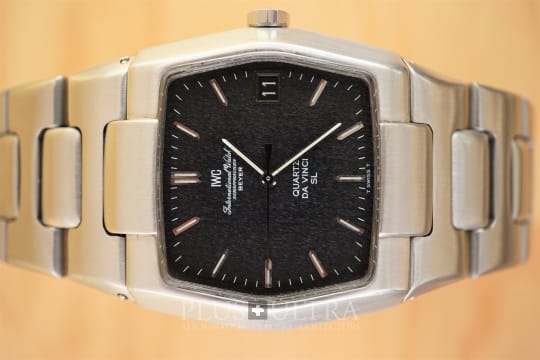 Info
Model
Hexagonal DaVinci SL Sportwatch, Beyer DoubleSigned, Jumbo Ingenieur-Bracelet
---
Movement
Functions
Time (Hour, Minute, Central Second)
Date
---
Case
Rare & important IWC from mid 1970s: The 2nd DaVinci in the significant series by the watchmaker from Schaffhausen, Switzerland -- following the genetic related pioneer, the hexagonal IWC Beta21 DaVinci, with a lot of similarities and many differences between both rare icons:
- while the Beta21 introduced quartz to the Swiss market at all, the cal2405 is a solid stepping-motor driven 32kHz quartz movement;
- while the Beta21 was made of 18K white- or yellowgold, the 2nd DaVinci is IWCs 1st Luxury Sportwatch made of stainless steel
Trendsetting nevertheless: This watch was equipped already with the same bracelet that was used for the Genta-designed IWC Jumbo Ingenieur 2 years later -- and one can argue this watch was already designed by Gerald Genta two years after his coup for AP with the Royal Oak and two years before he landed a similar iconic success at IWC with the unmistakable Jumbo Ingenieur. The harmonic integrated bracelet and overall sporty but luxurious appearance of this steel-watch with a lavish anthracite dial from an era when this was unusual and something special, make it highly likely.
However, this iconic timepiece is further lifted to another level by the doublesignature of Chronometrie Beyer, Zurich -- finding a second steel example in similar preservation is not easy, but in exact same provenance and configuration might be impossible.
The condition of the watch case is good although it was pretty sure polished and the bracelet -- next to the inaccuracies from early CNC products -- has some stretch. The glass and dial are in well preserved condition, as is the precise and reliable working cal2405 movement.
---
More IWC Watches