Very Rare: White Gold IWC DaVinci Beta 21, Full Set
IWC Electronic Da Vinci, White Gold Beta 21, Full Set
---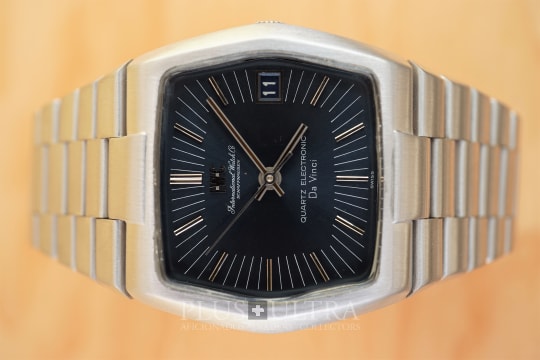 Info
Model
Electronic Da Vinci, White Gold Beta 21, Full Set
Delivery
Watch, Paper and Box
---
Movement
Functions
Time (Hour, Minute, Central Second)
Date
---
Case
Originally sold 1976 in Chiasso, Switzerland and serviced in 1986 by IWC -- and today available by Plus Ultra: IWC Beta21 Full Set in white gold with original box, guarantee card and service repair card.
The watch case and bracelet is in fantastic condition, just the dial shows minimal signs of aging, oxidation and intervention (barely visible to the naked eye, but with a loupe). The bracelet has no stretch, no warp and no significant signs of use and fits a 200mm wrist.
This IWC Da Vinci Quartz Electronic houses a legendary Beta21 movement -- the first quartz movement for a wrist watch developed by a consortium of 20 Swiss companies: from Bulova and Omega to Rolex and Patek. The historical relevant Beta21 movement was serviced by our expert is running flawless and precise, even after more than 45 years.
This is the first DaVinci in the legendary IWC series. The watch is in its form a classic and significant on the wrist and the sweep second of the Beta movement looks simply beautiful. The IWC Beta 21 is in no aspect inferior to the top dog equivalents made by Rolex or Patek -- high quality, historical relevance, significant size and iconic and unmistakable design.
A heavy white gold example with some footprint in horology -- please see our blog for the relevance of Beta21 and as well about the number of examples made overall.
---
More IWC Watches