Dial & Bezel: Tigereye & Guilloche / Clous-de-Paris
Piaget Rectangular Tigereye Clous-de-Paris
---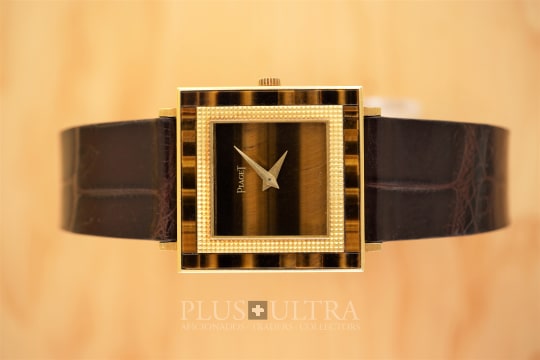 Info
Model
Rectangular Tigereye Clous-de-Paris
---
Movement
---
Case
Bracelet
Leather with Original Buckle
WHY WE LOVE IT: Stone-dial, guilloche & stone-bezel -- #soooPiaget. Why we love vintage Piagets? All known widely and written in our blog since years.
Amazing condition of the Clous-de-Paris-Bezel indicating the watch was probably never polished -- the caramel-golden Patinae on the 18K gold-case is another indication for that.
The dial has several mineral-veins, that might appear like a cut but it is for sure unbroken.
The last two photos show the watch on a 150mm ladies-wrist. Lovely.
---
More Piaget Watches