Thin Hobnail-Altiplano: 1967 and Clous-de-Paris
Piaget Thin Hobnail-Auto-Altiplano: Microrotor Calatrava w/ Clous-de-Paris, Factory-Serviced
---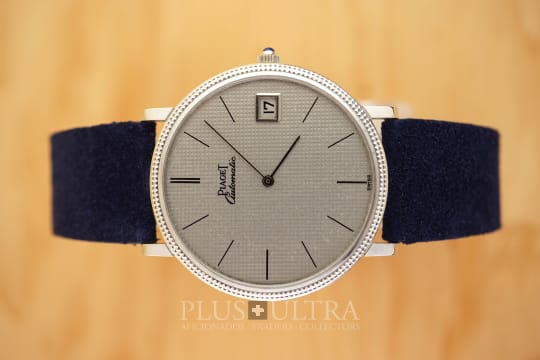 Info
Model
Thin Hobnail-Auto-Altiplano: Microrotor Calatrava w/ Clous-de-Paris, Factory-Serviced
---
Movement
---
Case
Bracelet
Leather with Original Buckle
Rare and special: 18K whitegold Altiplano with the legendary microrotor movement Piaget 12P and a beautiful and interesting hobnail- / clous-de-Paris-pattern -- a timeless classic made in 1967 according to our books.
Serviced by Piaget in 2023 and thus with a guarantee by the manufacure until 2025. Overall in amazing and probably unpolished condition. More than 50 years old and every part of this classic watch was made in-house by Piaget: the case, the movement, the sapphire-crystal and the dial. All Piaget. Compare this to a Patek or a Cartier from the same era... case and dial for sure 3rd party, movement probably as well.
This super-thin watch is part of the DNA of Piaget: Thin microrotor automatic cal12P by Piaget. Made in 1967 and one of just a few made in whitegold.
The case has some signs of time and wear. But one has to keep in mind: This watch comes in all original condition with the hallmarks deep and clearly visible and all lines and edges crisp, so probably unpolished and it is more than 50 years old.
We put a dark-blue suede strap between the case and the original 18K-Piaget-buckle. But the watch is quite versatile and would go with different colors, too.
And a word regarding the size of 32/33mm: This watch is from a time when watchmakers wanted to show what is possible technically. And a automatic movement in such a small and thin case was just exceptional. If you mind that a small watch might not work for you and might reduce your attractivity for the ladies -- let me put it like this: Alain Delon wore a very similar model in same size, while smiling.
---
More Piaget Watches