Vintage Blue Sunburst Dial Calatrava
Patek Philippe Vintage Blue-Gold Sunburst Calatrava
---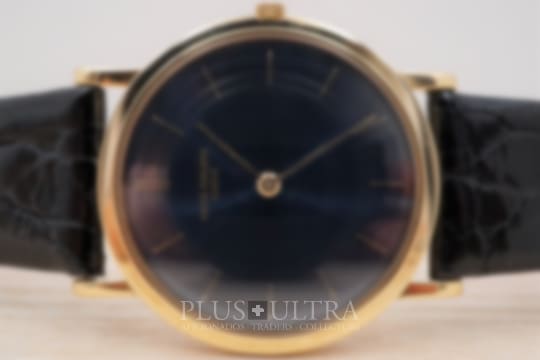 Info
Model:
Vintage Blue-Gold Sunburst Calatrava
Delivery:
Watch, Paper and Box
---
Movement
---
Case
Bracelet:
Leather with Original Buckle
Dial color:
Blue Gold Sunburst Dial
Pateks Calatrava is not only a long-term pillar in Pateks product portfolio and thus brand defining, but also the most classy watch of the Geneve based-watchmaker. Comparable to Mercedes G-Class: not only the definition of a car (watch) but also the car-maker wouldnt be definable without its icon; same as Patek is not without Calatrava line.
The example we can offer proudly, is a yellow gold one with an astonishing perfect condition blue-gold sunburst dial -- highest class and an impressive contrast by complementary colors of case and dial. Easy to understand why this is not only the most classic Patek color combination, but also the most sought after one. The relevance of this timepiece is further elevated by the fact it is a smooth surface instead of Clou-De-Paris. Rare and unusual for this reference!
The case is in very good investors and collectors condition and the dial as well. It has the original slightly domed glass and the overall impression is fantastic -- hard to find something similar, especially when taken the age of the watch into account: almost half a century.
The timepieces comes with original gold AW buckle of course, the Patek Excerpt from Archives and the original Patek box. Between case and 18K-buckle we decided to put a dark blue custom strap, that is visible on the last wrist shot-photos in gallery. Even when we are sure this suits the class of this watch much better, we are happy to ship the black one as well.
---
More Patek Philippe Watches