80s Octagonal Diamond Set Gondolo
Patek Philippe Octagonal Diamond Set Gondolo, Integrated Bracelet
---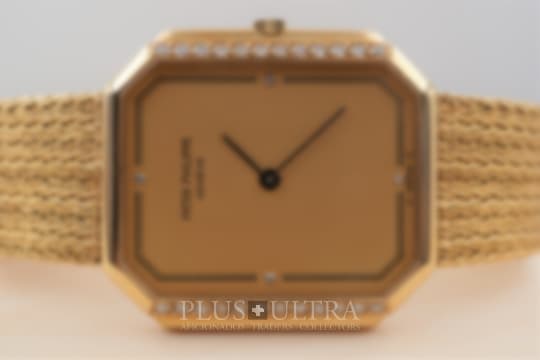 Info
Model:
Octagonal Diamond Set Gondolo, Integrated Bracelet
Delivery:
Watch, Paper and Box
---
Movement
---
Case
Dial color:
Gold, Four Diamond Indexes
Well, this Patek Gondolo is somehow anachronistic: sold in January 1985 its elongated octagonal-shaped case is connected to an integrated polonaise-style massive gold bracelet -- something that is simply rarely worn and, more important, no more done nowadays. It has a dozen diamonds let and right side of the case and four on the dial and it is classy-sized at 29.5mm in diameter. Anachronistic in a time, when even women wear watches of 40+ mm.
And it is moved by a caliber E27 Patek quartz movement: being quartz makes it a flawless and astonishing thin and reliable companion, that is overall precise and low-maintenance.
In the end, it is a beautiful and classy and to most extend hand-made watch by Patek, that was made in very low numbers in thus was already rare back in the early 80s but is very rare today, especially in this condition. Compare this to some actual mainly machine-made models to understand, why we like it exactly like it is; why we love it.
---
More Patek Philippe Watches