Mezzo Mix -- The Best of Both Worlds: Ellipse + Nautilus = Nautillipse
Patek Philippe Nautilus Ellipse aka Nautillipse
---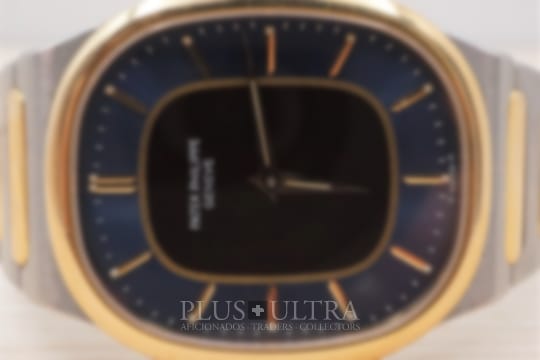 Info
Model:
Nautilus Ellipse aka Nautillipse
---
Movement
---
Case
Dial color:
Two Tone Sunburst Blue
This watch is un-mistakably: Patek Nautilus Ellipse ref3770 -- Nautillipse aka Ellipsilus. A merger of two of the most iconic watches of all time and two brand defining legends: Nautilus and Ellipse. Patek isnt definable without any of these two icons and this is the genetic mix of both. The best of both worlds -- like Mezzo Mix or Metallica & San Francisco Symphony.
Made in overall very small quantities and designed by Genta for Patek to help the non-performing Nautilus to get started with help of the classic Ellipse. And we all know: Nautilus took off and Ellipse is still the most classic PP watch.
Ref3770 is the rarest early Nautilus reference made by Patek and was priced approx 50% higher than standard ref3700 back in early 1980s.
The condition of this example is very good and hard to find -- especially the combination of steel, gold and Patek blue-gold sunburst dial. The watch is unpolished and not only the most interesting ref3770 since a long time, but also the one in best condition. The dial is not the one originally mounted on the watch by the Patek manufacture, as stated in the Excerpt, however, it is definitely a dial original to this watch reference and probably it was changed in the boutique of the initial authorized dealer by request of the initial buyer -- something that was not unusual back then. The bracelet is in very good condition and is the original ref3770 bracelet with the ellipsoid interlinks and not a standard Nautilus bracelet.
This is the Uber-Patek and not only interesting for the sophisticated collector but also a joy to wear: all relevant and brand defining attributes (Ellipse, Nautilus, Blue Gold Sunburst) are condensed in just one watch.
---
More Patek Philippe Watches