Rare and Sparkling Ladies Patek
Patek Philippe Diamond Ladies Jewel: Round to Ellipse
---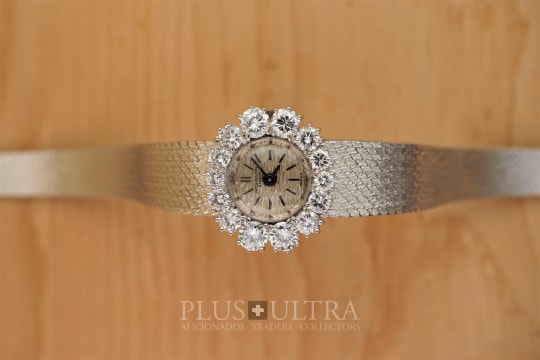 Info
Model
Diamond Ladies Jewel: Round to Ellipse
---
Movement
---
Case
Dial Color
Horizontal Silvered
Patek Philippe: A very rare and well preserved ladies Patek made in 1968, sold December 17th -- more than 50 years old and back then, today and tomorrow a timeless jewel. This is a fantastic jewellery-watch made by the number one manufacturer that is rare in any appearance but what we can provide here -- in white gold with handmade milanaise-bracelet and 14 significant brilliant cut diamonds of 1.8ct -- is so exclusive and rare that finding a second one is impossible or at least very difficult. The clou: the glass and dial of this jewel is round but with the different sized diamonds systematically arranged the overall appearance is a Ellipse -- the PP Classic. For the lady with excellent and exclusive taste, that is not shy of some sparkling on the wrist.
The perfect condition bracelet was handmade by the best goldsmiths around in Geneva in the 60s and 70s. It is in excellent condition, without warp or defects or repairs and fits a 172mm wrist.
The last two photos show the 1960s Patek catalogue featuring this jewel in yellowgold.
It is coming with original box and of course diamonds are factory set and everything else is original, shown by the included Excerpt of Archive and our guarantee.
---
More Patek Philippe Watches