1972 Constellation f300Hz Tuning Fork Chronometer in Wenger Case
Omega Constellation f300Hz Electronic Chronometer, Tuning Fork, 18K
---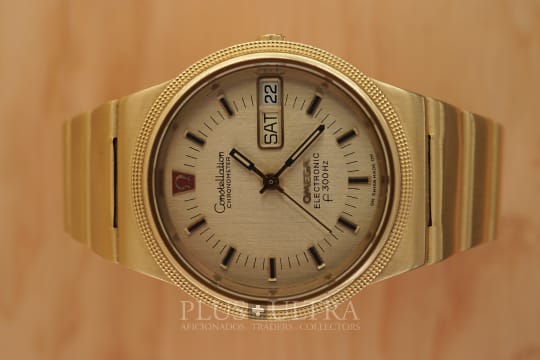 Info
Model
Constellation f300Hz Electronic Chronometer, Tuning Fork, 18K
---
Movement
Functions
Time (Hour, Minute, Central Second)
Date
Day
---
Case
We love the f300Hz tuning fork movement: it is precise, even after 50 years, it has a sweep second, it is a brilliant idea that bridges mechanics and electronics and that sparked the development of electronic watches and it hums.
Anyway, perfect condition: The movement is clean and working perfect and was serviced right now so it will hum another five decades. The case, glass and dial is in similar beautiful and well preserved condition, even after 50 years. By the way, the case was made by the artisans Ed. Wenger in Geneva -- a classic.
A beautiful watch with a beautiful and interesting movement and a rare one especially well preserved and in 18K solid gold -- read our blog for more info about the fascinating tuning fork movement.
---
More Omega Watches