Octagonal Beta21 Omega, Grima Smokey-Quartz
Omega Octagonal Beta21 Constellation ElectroQuartz 8192Hz, Grima Smokey Quartz
---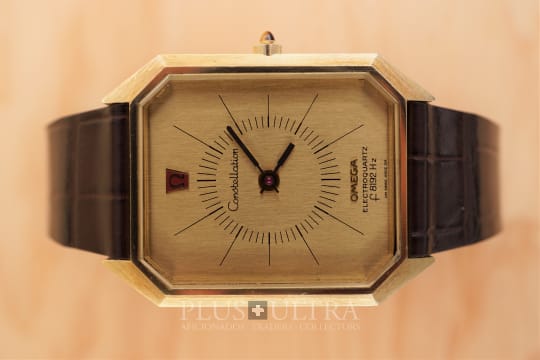 Info
Model
Octagonal Beta21 Constellation ElectroQuartz 8192Hz, Grima Smokey Quartz
---
Movement
Caliber
1302 ElectroQuartz f8192Hz, based on caliber CEH Beta21
---
Case
Bracelet
Leather with Original Buckle
Very good condition octagonal Omega Constellation ElectroQuartz 8'192Hz with the Beta21 movement: inspired or designed (different sources say different things) by the About Time collection of Andrew Grim and made in very low numbers in heavy and beautiful gold cases and now definitely a rare one, given the low quantities made and the number of examples that were unfortunately smelted in the 1980s and later.
Super-sharp masculine case with no round angle and beautiful and special smokey-quartz glass. Unmistakable.
Serviced Beta21 movement: running excellent and precise. Guaranteed.
We made a new custom-made strap to this icon, that is send with its original Omega buckle and original Omega strap.
---
More Omega Watches