1971 Constellation f300Hz Tuning Fork Chronometer in Wenger Case
Omega 18K Constellation f300Hz Electronic Chronometer, Tuningfork
---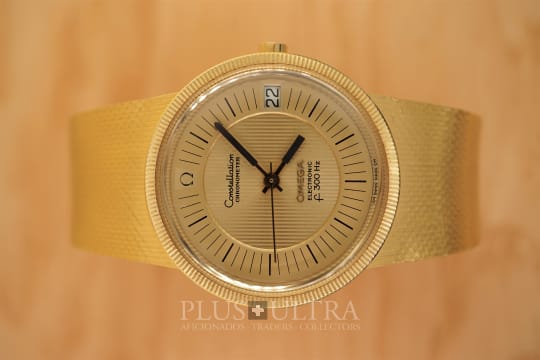 Info
Model
18K Constellation f300Hz Electronic Chronometer, Tuningfork
---
Movement
Functions
Time (Hour, Minute, Central Second)
Date
---
Case
We love the tuningfork-movement: it is precise, even after 50 years, it has a sweep second, it is a brilliant idea that bridges mechanics and electronics, it sparked the development of electronic watches and it hums.
Anyway, perfect condition: The movement is clean and working perfect and was serviced right now to make it hum another five decades. The case, bracelet and dial is in similar beautiful and well preserved condition, even after 50 years. And the case is a timeless classic -- made by the case-making artisans at Wenger, Geneva -- the choice of Patek, Vacheron and AP as well.
The fine milanaise-style bracelet, made of a wrenched gold wire is in very good condition as well, fits a maximum 180mm wrist (extension is possible, speak with us) and has no cracks. A beautiful watch with a beautiful and interesting movement and a rare one especially well preserved and in 18K solid gold -- nothing hums like solid gold. Read our blog for more info about the fascinating tuning fork movement.
---
More Omega Watches