#SameOrDifferent: King Midas vs Kink Midas
---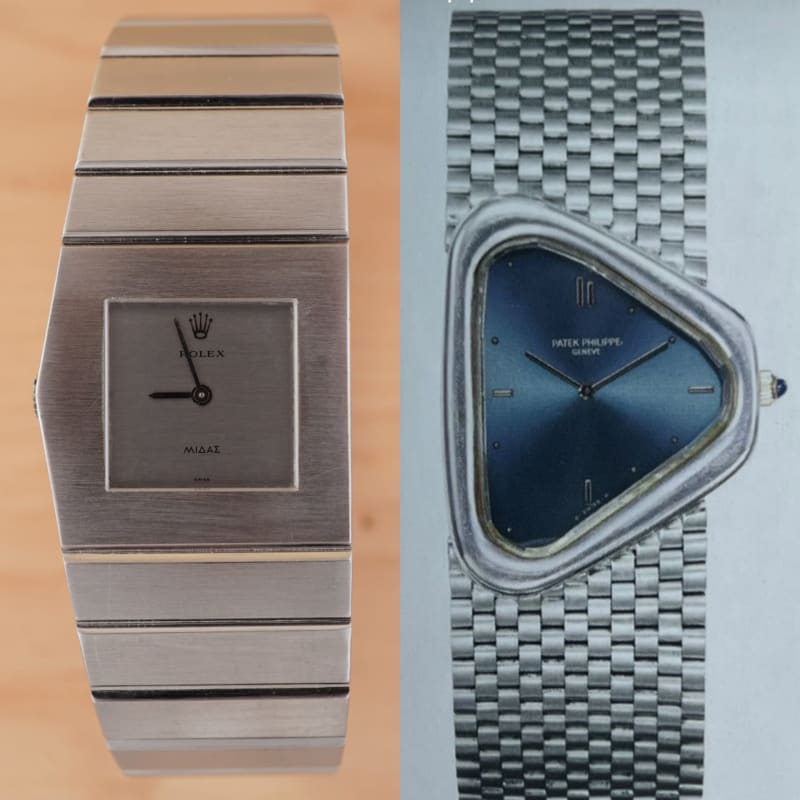 Wednesday, July 5, 2023
Rolex King Midas ref9630 vs Patek Kink Midas ref3843:
both were made in 18K whitegold with triangular case and integrated bracelet; and both share the same size of 27mm;
Gerald Genta designed the Rolex in 1961 and we can assume it was the last project of Hans Wilsdorf (see here), while the Patek was designed and created 30 years later, in 1991;
the Rolex was made in 144 in whitegold and the Patek is a piece unique: amazing;
while the Rolex is one of the first wristwatches at all that uses the now-common sapphire-crystal, the Patek goes one step further using a >13ct diamond;
both run on a thin manual movement with exactly the same roots: Rolex cal650 is based on the Piguet cal21 and the Patek cal177 is also an Piguet cal21 and nothing else (see here);
the Rolex ref9630 is around here and there from time to time but the Patek was sold in a Christies auction in 2016 for HKD3'500'000 (see here) and was not visibly moved thereafter;
Subjectively I would say the Rolex appears to be more beautiful and more like a single piece of art, while the bracelet of the Patek appears to be somehow artificially attached to the case (the small links make the connections look ugly as well;) and the nipple-crown that mimics a Cartier should have been hidden -- the chance was there with the case-design, but was left unused. And a silver dial would have been an even more calming attribute in a very exciting and unusual watch. But now thats just my 2 cents and not relevant.
Next to all that both watches share to be "so outside the realm; we've never seen or heard of anything like this" as John Reardon puts it for the Patek (here) and it was exactly your favourite Rolex dealers-saying for the Rolex ref9630 until two years ago (here) -- now, but at least for the King Midas it seems to change.