Rolex 9630 King Midas
---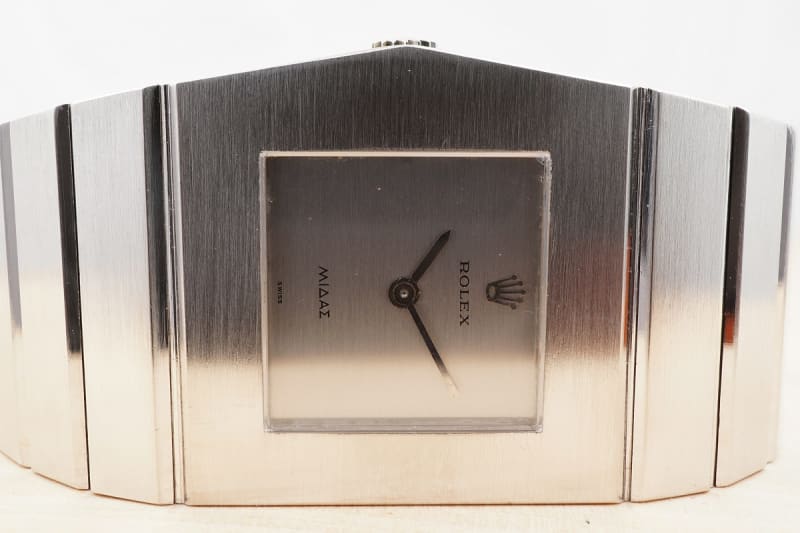 Friday, September 18, 2020
The most interesting and unusual Rolex ever? The Rolex King Midas ref9630, of course! This watch has it all -- it was designed by the most popular watch designer, it was worn by stars, it had a movie appearance, it is unusual and unmistakable like no other watch, it looks funky, asymmetric, futuristic & interesting, starts a discussion right away, is elegant-thin, heavy but nevertheless balanced and comfortable to wear and it was made in small numbers in Rolex' first ever limited edition approx 50 years ago -- now, not many other Rolex references that get all these boxes ticked -- see here what we can offer currently: Rolex Midas Series.
The relevant reference 9630 was introduced to the market 1962 and designed so edgy, so vanguard by the young watch designer Gerald Genta as an answer of Rolex to the asymmetric and successful collections of Omega and Patek Philippe designed by Gilbert Albert.
It was capped to a maximum of 1'000 pieces in a limited edition -- the first of just two Rolex has ever done: the other one was ref5100 Beta21 in 1970. However, ten years later in 1972 not even 800 of the original reference 9630 had been produced and sold and so Rolex closed this chapter in 1972 without reaching the 1'000 -- needless to say, it was the most expensive Rolex customers could buy in most of the ten years -- and all else following is not the same as it was integrated into the Rolex Cellini line and not made in a limited series.
OK, so back to ref9630: Of these less than 800 pieces made, 144 were manufactured in solid 18K white gold and more than 600 in yellow gold -- and this means manufactured in the essence of the word: the watch is result of pure manual / handmade work of goldsmiths! Yes, and now please compare this to your latest Submariner. ;-)
The manually engraving on the flank "KING MIDAS" was added after ~250 pieces had been sold without this engraving, already. So, when you find an early one, this is probably not polished off, but there simply never was such an engraving.
The watch is powered by an ultra-thin 17 jewels caliber 650, which was developed by Piguet as cal21 and is used by Patek as well. But there is more technological / horological relevance: the crystal was the first scratch resistant sapphire glass used for a Rolex watch, ever.
Even tough it is under most aspects an outstanding and unusual Rolex, this reference 9630 King Midas is somewhat out of focus and overseen -- no books, just very thin literature, a lot of myths and wrong information. Why? We simply dont know. Maybe the reason is, that many of these <800 timepieces have been melted in the last 50 - 60 years.
See, the inflation adjusted gold price was much higher than today in 1980, exactly at a time when such a timepiece couldn't be farther away from the trend. So, overall I would not be surprised if sadly more than half of the watches made, aren't existent anymore.