Frederic Piguet Caliber 21
---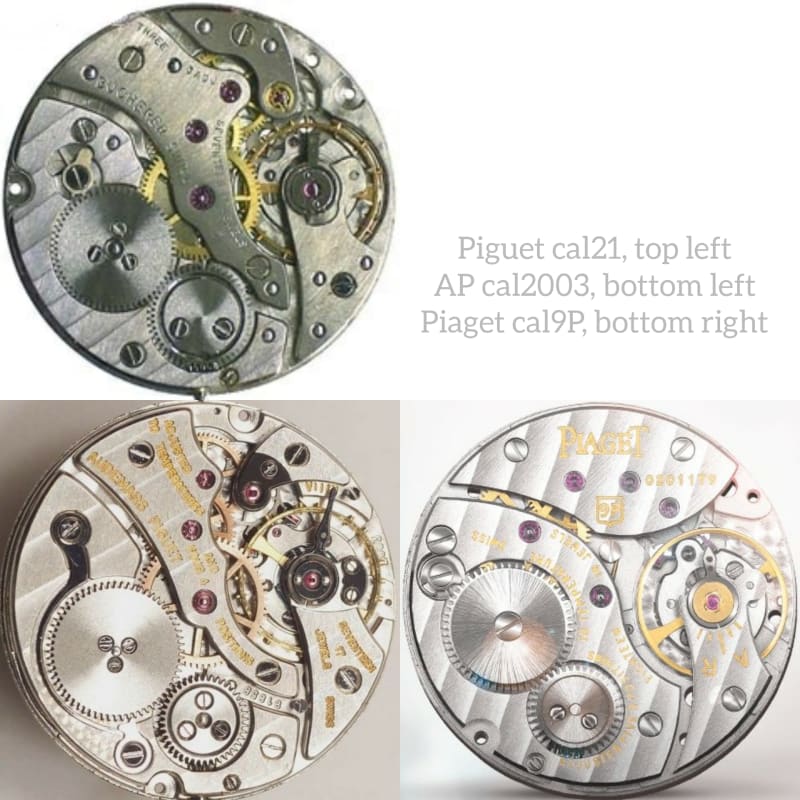 Thursday, February 18, 2021
The Frederic Piguet cal21 / Blancpain cal21 is one of the most relevant, successful and trendsetting manual movements of all time. Developed in 1925 (!sic) by Piguet (altough Blancpain claims to be the major innovator, but we will not judge or decide this here) it is still produced today and is / was used by a significant number of watch manufacturers:
Piguet cal21
Blancpain cal21
IWC cal171
Rolex cal650
Patek cal175 & cal177
Longines cal310
Cartier cal21
Certina cal20-10
Omega cal700
Zenith cal53.5
BuecheGirod
Bucherer
And probably some more used it but are not noted here -- sorry, but no offense intended. Yes, and the reason for this wide usage is simple: it is a simple, a precise and a reliable movement with approx 42 hours of power reserve and minimal dimensions: 20.4 x 1.74mm. Yes, this is very small and thin. Of course this never before seen "thickness" allowed completely new case designs and dials -- remember it was invented approx 100 years ago (in 1925).
The fact it was widely used and is still produced and used today says a lot about this movement. Here we have a manual watch-movement like an alligator or shark: no evolution is necessary since it reached perfection early.
But there was some evolution, nevertheless: The Audemars Piguet cal2003 (aka Vacheron cal1003 aka JLC cal803) arrived in 1946 -- exactly 21 years after the innovation of Piguet cal21 and this doesnt come as a surprise, because patents are protected for 20 years in Switzerland: these movements share the dimensions almost exactly, with the twenty years later arriving AP-VC-JLC being a hairline of just the tenth of a millimeter thinner. And also the design, simplicity and functionality is pretty similar. But all these similarities dont matter anymore, more than 20 years after Piguet secured its innovation.
One more: In 1957 Piaget presented the famous caliber 9P. This shared also the dimensions, being a tick thicker than the pioneer FP cal21 and the AP-VC-JLC with 2.00mm but sharing more similarities than differences.
So, that is why we think FP cal21 is the most relevant manual caliber of all time: being in production for almost hundred years and being the model for two similar popular calibers, namely the AP cal2003 and the Piaget cal9P.