Rolex King Midas ref9630 Specifications & Buyers Guide
---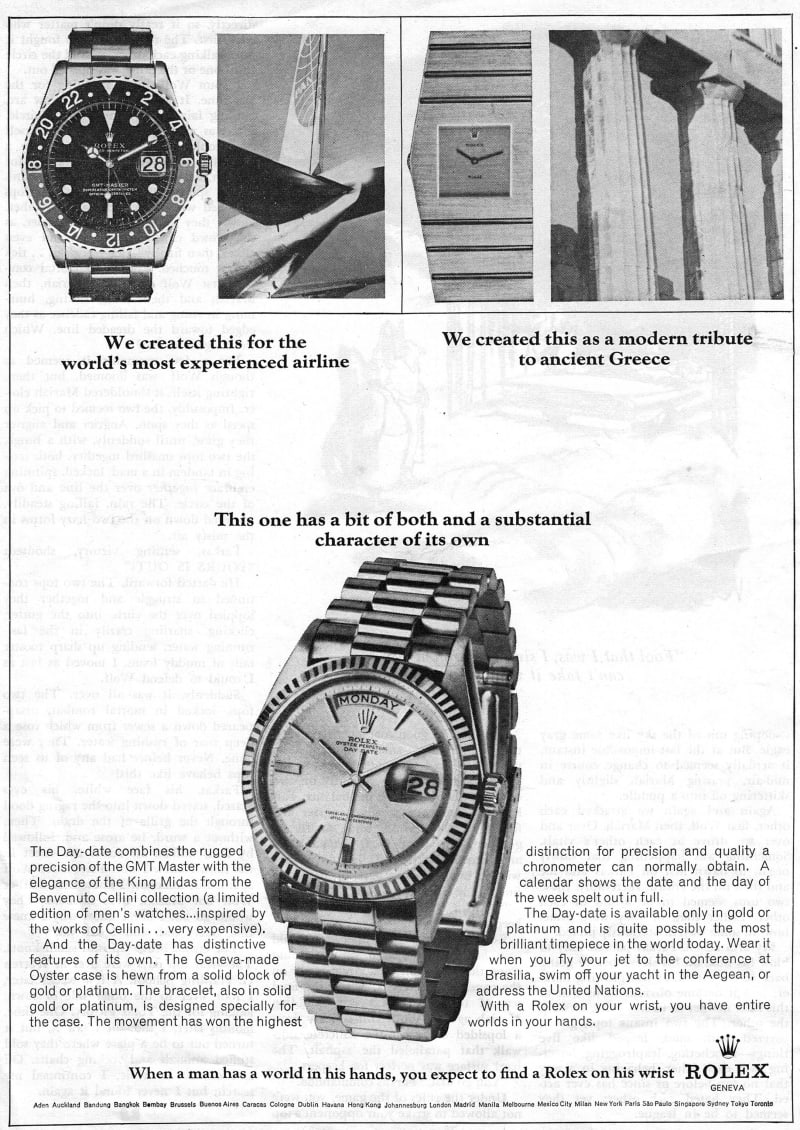 Friday, June 3, 2022
Yes, you know, it is our most loved Rolex and for mysterious reasons the most overlooked one. You can read a full blown encyclopedia about the inverted six Daytona or three-volume-books about the gaskets used in the Paul Newman Rolex but one of the most unusual Rolex, the most interesting and the most modern appearing, the avant-gardist that stands out like a lighthouse in terms of appearance and in terms of quality when compared to anything else that was emitted from the Rolex manufactures in the 1960s & 70s, is excluded by the horological "historians" and so we put some details here. The following specification holds true for all Rolex ref9630 made, so for the approx 800 examples (144 white gold and rest in yellow gold) made between 1962 and 1972:
MIDAS writing on the dial in greek letters;
the first ~250 pieces had no KING MIDAS engraving on the flank; the later ~550 have;
all pieces were hand-made: manufactured in the essence of the word; that makes every watch a piece unique with slight (!) differences in look and weight; case was made by Genex S.A., Chêne Bourg (Switzerland) case maker as indicated by Key "12";
all series serial numbers were hand engraved on the 1st link of the bracelet and look different from one to another example: 1 to approx 800;
the Rolex case numbers are positioned on other sides 1st bracelet link and range from approx 730'000 (1962) to approx 3'200'000 (1972); this is important: we have seen several watches that were polished heavily and were one or several of these digits were brushed off;
weight differs slightly but should be around 180 to almost 200 grams, with whitegold examples slightly heavier than yellowgold;
all examples case the Rolex cal650 see here and all have a sapphire crystal -- by the way the first used by Rolex: horological & technological pioneer;
links are not removable by design but length is adjustable between approx 170 and almost 200mm in the double folding clasp;
each side has 12 links, so make sure you count 24 in total;
And the best thing: it is definitely one of the highest quality vintage Rolex references. It feels super-valuable and is superior to many watches that left the factory in Geneva in the 1960s or 70s.
Yes, but one more thing that makes this our preferred Rolex: It is around in less pieces than it was made originally (due to scrap, smelting or damaging) and not in more, as many other vintage Rolex' (due to fakes and counterfeits).
Just, why it is excluded from reference books and the high-priests of vintage Rolex offer just a shy smile when it comes to King Midas -- we simply don't know.
- Everything you wanted to know about Rolex King Midas 9630 was written in this blog in earlier posts -- check here.
- If you are tired of overcrowded APRO binge-partying and want to join a more closed atmosphere party in style: Join the 60th Rolex Midas Anniversary here.
- Sometimes we have a ref9630 or following -- check our inventory here.