Beautiful Yellowgold Piaget Polo Bracelet Watch with Whitegold Interlinks, 1982
Piaget Polo, Yellow- & Whitegold: 1982 Bracelet Watch
---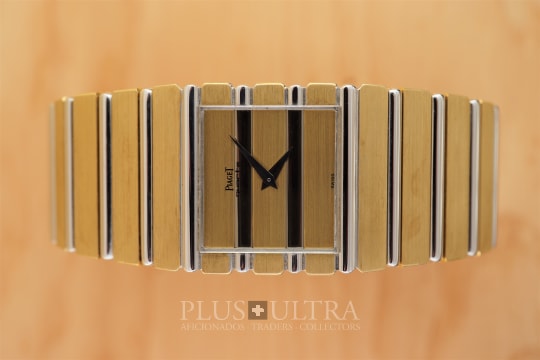 Info
Model
Polo, Yellow- & Whitegold: 1982 Bracelet Watch
---
Movement
---
Case
Dial Color
Bi-Color: Yellow- & Whitegold
WHY WE LOVE IT: Why we love the vintage Piagets? The vintage Polo especially? This is widely known and written in our blog -- THE watch of the '80s. The watch that manifested Piagets no. 1-position in this decade -- second to none. That's why and some details.
Piaget Polo in yellowgold with whitegold interlinks, an exalted classic made in 1982 according our books and so a more than 40y old stunner in almost perfect condition and without stretch or significant signs of wear: The Piaget Polo was the Patek Nautilus of the 1980s: This watch is so iconic, unmistakable and characteristic -- 1980s on the wrist!
Solid and heavy, impressive, sporty yet elegant -- Piaget Polo. A classic with a maximum recognition value and also high wearing comfort, because it is sooo well balanced.
The bracelet watch currently fits a 185mm wrist and is in excellent condition, without stretch or warp -- the watch is not unworn, but with only with a very few minor traces of use; delivered with its box.
---
More Piaget Watches