Lapis-Bezel Piaget-Tank
Piaget Lapis Lazuli-Tank: Cartier-Punk
---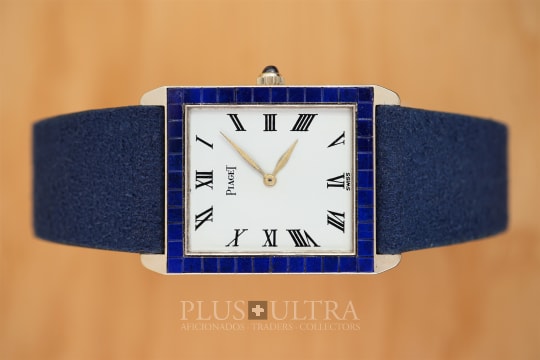 Info
Model
Lapis Lazuli-Tank: Cartier-Punk
---
Movement
---
Case
Bracelet
Leather with Original Buckle
WHY WE LOVE IT: Because it is almost 50y old and in amazing condition and besides this a super-rare characteristic watch. Finally, it is a steal against the Cartier-printed twin (last photo) -- although of course the exact same Piaget-produced watch.
Produced in 1974 according our books and research and so 50th Anniversary in the next year. Yes, and in amazing condition. The legendary cal9P was serviced by us right now and works precise and flawless. The hands appear in a grey-whitegold-yellow-tone but we have good reasons to assume they are absolutely original and correct for this watch. We connected the sharp 18K-case with the original 18K-Piaget-buckle by a custom-made blue-suede strap -- wrist-aesthetics, as we do it and as we love it.
Love. You love the Cartier-Tank? Now, while Piaget made all parts for their jewel in-house this is not exactly what happened at Cartier during the '70s, '80s or '90s: they just combined some 3rd party-supplied parts (freely available to anyone) but nevertheless the Cartier 3rd-Party box of bricks comes at a hefty markup to the Piagets price.
Even more, there is a Cartier-printed variant of this watch (last photo) which was completely produced by Piaget and runs on the cal9P, too. The quality is of course the same just the price tag is not, with the Cartier-printed being significantly more expansive. But yes, why not Cartier? It is what everybody in your tribe prefers and so it is the better choice to not stand out. Make no mistake.
---
More Piaget Watches