The Biggest Mistake: Piaget (New) Polo
---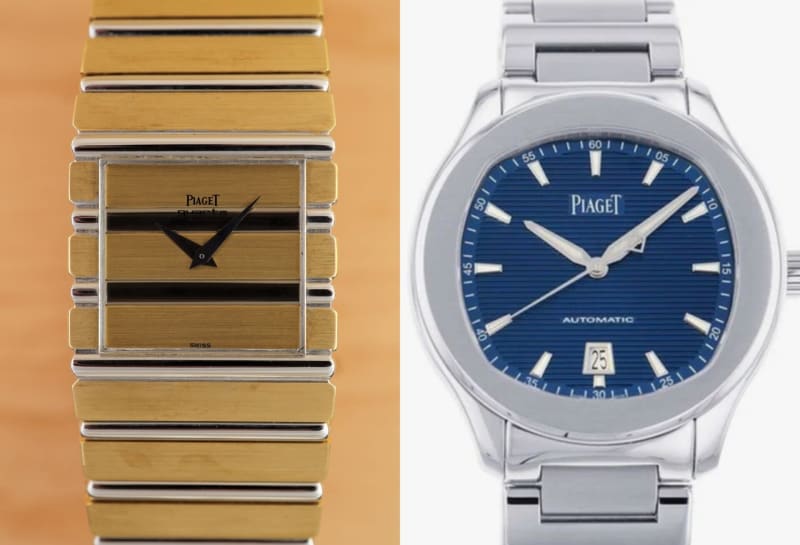 Thursday, September 14, 2023
Yes, we play the trumpet for Piaget since years and whenever we can but we are doing so for the vintage pieces especially: Piaget had an outstanding position in the late 1960s to the early 90s and why they were the top-dog back then, they were the best second to none, that was written here and there: #MakePiagetGreatAgain. But things changed, especially after Piaget was acquired by Richemont in 1994 and transformed from a proud stand-alone brand into an integrated part of a conglomerate with another top-dog in the orchestra: Cartier.
Now you ask: Why two top-dogs in one group? Curious, huh? Anyway, since then the brand made some strategic mistakes in the 2000s that shape the path of it until today and some of these "mistakes" make you scratch your head so much that you might be wondering if these were just mistakes or Piaget was acquired and integrated into Richemont Group as a numero two, to be taken out of the race with Cartier. Not that we postulate this or think so, but we have to check and will elaborate this in detail with some more insights in a later post -- stay tuned, it is worth it.
In 1979 the family owned brand Piaget came out with the unmistakable Piaget Polo -- an unusual all-gold bracelet-watch, heavy and not only characteristic but truly surprising, highest quality around, the most expensive watch and polarizing. To present something like this was a high risk -- and this is often forgotten when the Polo-Story is viewed in hindsight --, especially back then: at the same time a bracelet and a watch, heavy and only available in gold. Please dont fall victim to the hindsight bias and understand: You bring something completely new, polarizing (bracelet-watch in the essence of its meaning, heavy, small quartz-movement) and you put it on top of all competitors price-lists -- I think "Against all odds" nails it pretty well. And even more: Piaget, personalized by the owner family and Yves Piaget, did so when it had a lot, a lot to loose: They were number one watch-manufacturer in many aspects in this time. This makes this innovation even more remarkable. So, one makes a mistake by interpreting it as a wild ride of a hussar gone crazy.
Ok, Ok, back to the object: The ladies version came in at around 100 grams while the men model was 150g or even more -- at a time when AP & Patek had successfully pushed the boundaries for luxury watches towards steel. And they (AP & PP) did so, because the price of gold was steadily increasing since 1970 from USD35 per ounce to more than USD800 in 1980. More on this later: I can already announce, this will make some colorful bold strikes on your horological canvas. To make the picture complete, one should know that Yves Piaget rejected Gerald Gentas draft of the Nautilus that was offered to Piaget approx two years before Patek finally took it. And he was very right doing so: The Piaget Polo was the number one watch of the '80s and early '90s while the Nautilus had a slow and complicated start and could not compete. I have written about this before: *klikk here.
So, we have the Piaget Polo that was the characteristic and trend-setting center-pillar of Piagets success; literally the Nautilus and Royal Oak of the 1980s and (early) 1990s in just one watch; and this is replaced by the "NEW" Piaget Polo -- a undinstinguishable very usual watch mostly made of steel... Not the most expensive watch, not a characteristic one with a very common color-combination (steel, bleu dial). I am not yet finished, but I am struggling finding a more usual and more irrelevant addition to the global horological oeuvre, right now. The question "Why?" has to be expected in such an operation. And indeed, the new Polo was everything or nothing but it was far from being a success in its first years. Also, the slipping icon pulled the brand Piaget from its top position -- something that is hardly a surprise.
To make the point once again, allow me to put it like this: If LVMH acquires Patek Philippe and Audemars Piguet in 2024, would you expect it to replace the Royal Oak with an un-characteristic round steel-watch of medium quality and with a plain blue dial in 2025? No? OK, me neither. But lets assume they do so in 2025, then would you be surprised if Audemars Piguet sinks to irrelevance in 2025ff? And even more, would you be surprised the star of the Nautilus and of the whole brand Patek Philippe shines brighter than ever before -- without having anything changed in its product quality or portfolio? Would you be surprised? Me neither, no.
OK, it became a long story now and is something for the weekend-read. More on this later, maybe.
Ah, and I am happy to remind that we celebrated the first Piaget Polo-Days in 2020 -- not all alone but just a few participants and with joy (*klikk to see.)