#SameOrDifferent: Polo vs Nautilus
---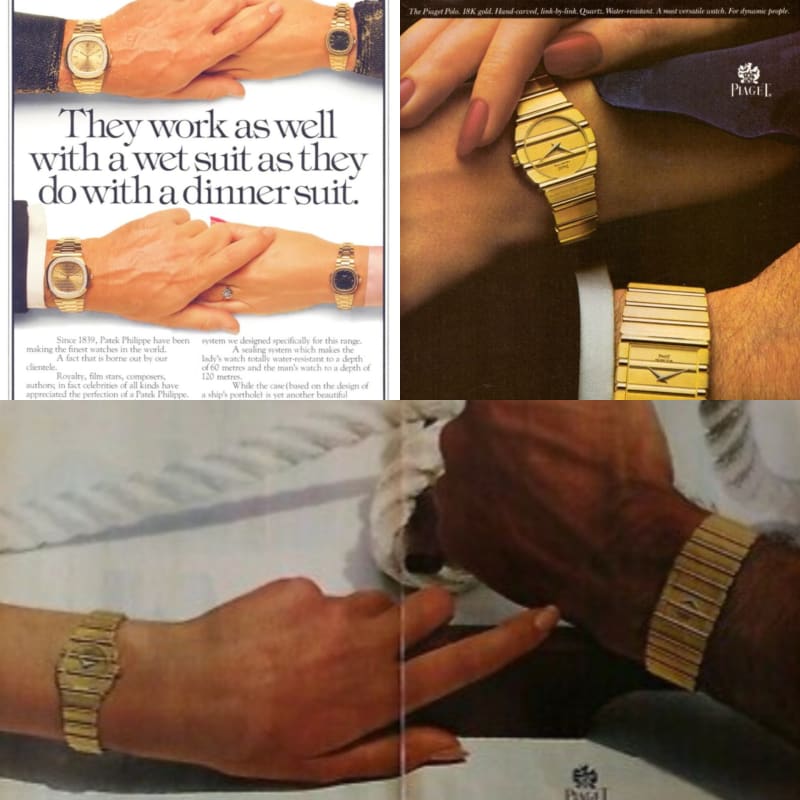 Thursday, April 28, 2022
This is our series: Same or Different. Something we all know from comparing dogs to cats but this time its... Well, it's more luxury & more sport.
The Nautilus, the symbol for the boom in watch prices and the most important pillar manifesting the position of the top dog Patek Philippe and for sure a century-watch: luxury sportswatch -- like the AP Royal Oak, without doubt... Yes, but there was a time when it didn't sell so easy as it does today with sky-high prices and mile-long waiting-lists. In the 1980s it was nothing special with a 3800 or even a 3700 being in the AD`s window for several years (not hours) until someone snapped it: it was a nice watch back then, sure but it was far from the hype it is today and there was another top model approx 40 years ago -- sought-after like no other watch in that time and priced "the most expensive watch in the world" (Piaget ad): the Piaget Polo.
Similar characteristic, iconic and distinguishable like the Nautilus or the Royal Oak, the Polo is definitely a watch on its own. It was similar to the other two a dynamic luxury sportswatch with integrated bracelet made in super-high quality and made to last and wear comfortable. But different than the other two it was not designed by Gerald Genta and its entry-level model was not available in steel and there was a reason for that: it was completely hand-made (unlike the other two) and thus available only in gold -- yellow or white, sure. Even the advertising looks similar: diving & dinner (Nautilus) or sailing and ballroom (Polo).
The Nautilus of the 1980s: Piaget Polo.
The Polo Days 2021 & #PiagetPolo.
Ad1) Of course the "modern" Polo by Piaget has nothing to do with the neo-vintage icon -- it is a steel watch like any other and comes usually with a blue dial. I dont want to hear the comments of Yves Piaget on this...
Ad2) Another difference between Pateks flagship and the Polo is of course, that vintage Nautilus cases and bracelets were made by 3rd parties (I dont remember the name, right now but will add later), while Piaget made the dial, the case, the movement and the bracelet completely in-house, being a fully integrated watch brand.
---
See the other parts in this series here: #SameOrDifferent