Important Watch: Concord Delirium, 1979
---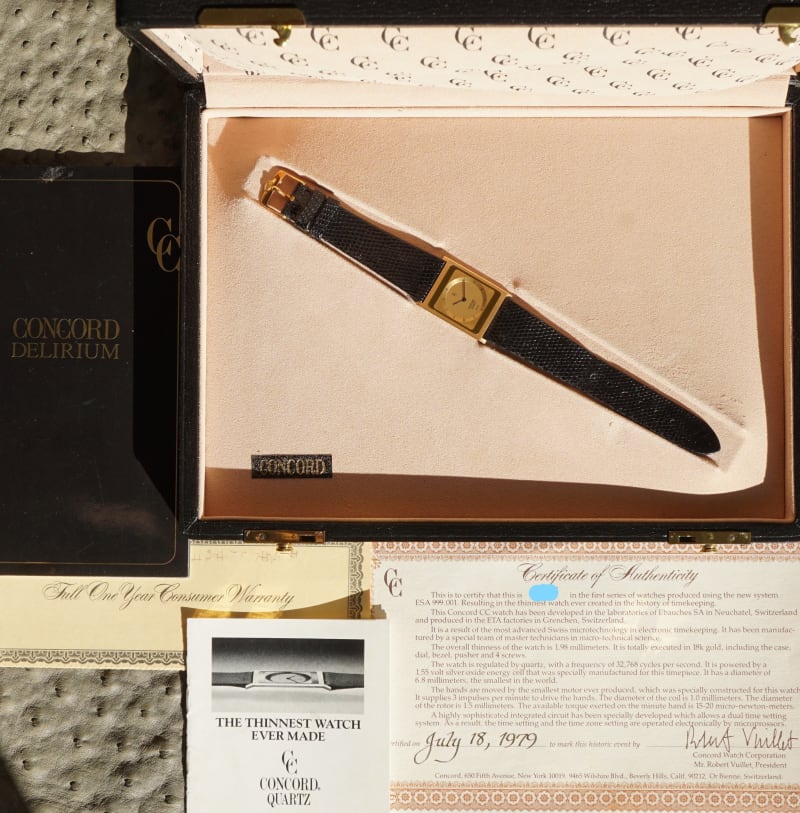 Wednesday, August 9, 2023
A Concord-Watch was one of the hottest things money could buy in the late 1970s and early to mid '80s -- and the brand released one of the most important horological milestones in July 1979: The Concord Delirium Très Mince (Delirium Very Thin, sounds like "Delirium Tremens"). The thinnest quartz watch and that was reached by using the case-back as the main-plate of the movement. We think this an important watch because:
assuming there are only two relevant dimensions in Quartzwatches (Accuracy & Miniaturisation), it triumphs at the latter being the thinnest ever made -- see here: *klikk;

using the caseback as baseplate is innovative and paved the ground for one of the most successful watch-series ever: Swatch;

furthermore it seems very obvious the 1983 film Scarface gives the Concord Delirum 2 a role at the wrist of Tony Montana;
So, maybe a little bit surprising for you, since it looks so different than all the other watches they said are important, but in our opinion a very relevant, a very important watch.
And yes, we are proud to have a working example, numbered #1XX in a Full-Set that was sold by Stern in New York in July 1979.
Ad, 2023-09-08: The innovative 18K solid gold-case was made by Favre & Perret the case-maker that was also regularly engaged by Patek Philippe to make some of its most celebrated icons -- not at least the Genta-designed Patek Nautilus ref3700, the even rarer Genta-designed Nautillipse ref3770 and the outstanding Patek Perpetual Calendar ref3940.
Ad, 2023-09-11: As James Dowling pointed out on RevolutionWatch it was André Beyner and Maurice Grimm of Ebauches SA that not only invented the Delirium but also the (in his opinion) most disruptive watch of the last decades: the automatic Audemars Piguet Ra-Tourbillion, see here (*klikk). So, we can add this to the relevance-balance of the Delirium, what left it as
the champion in miniaturization / thinnest watch;
the model for the best-selling Swiss watch: Swatch;
the model for another disruptive watch: AP Ra-Tourbillion;