QUARTZ IN A NUTSHELL: Concord Delirium
---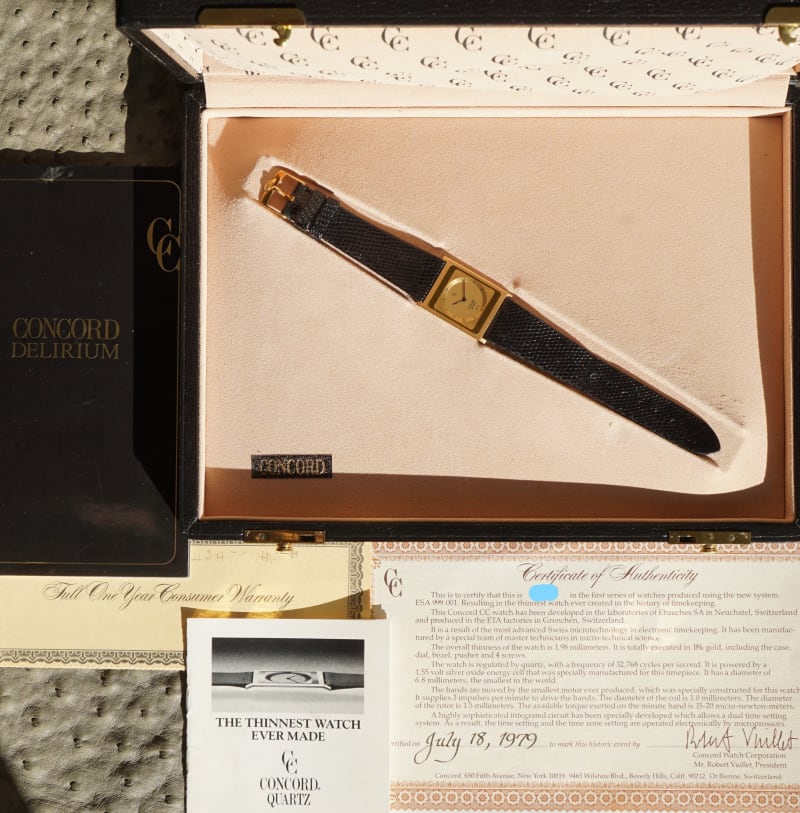 Wednesday, December 8, 2021
Quartz crystals put under current and used for time measurement are around for approx 100 years, now. Yes, but they were simply not useable as a portable clock, or even a wristwatch because of size. So, in our perspective there are two relevant dimensions in quartz watches / clocks: the first is precision -- sure, this is the foremost reason we use clocks or watches -- and the second is miniaturization. And while someone else was the winner in the run to precision the Concord Delirium is the winner in the race to miniaturization of quartz movements.
The brand made some of the hottest watches on earth in the late 70s and 80s and the Delirium now was their masterpiece presented in July 1979: the thinnest and a very expensive watch, back then. Less than 2mm thin (1.98mm) and at the edge of usability -- the later made CC Delirium 2 was less than 1.5mm thin and had just so many problems it was removed from the market immediately.
To achieve the thinnest quartz watch, Concord used the advances in battery technology -- the Renata 333 was the only battery the fits in the Delirium, measuring itself just 1mm. Furthermore, the back side of the case became the base plate of the movement, while the dial was used as what are the bridges of a usual movement -- a concept that was used for Omega La Magique as well and that makes a simple battery change a headache for the professional watchmaker and a desaster for the amateur.