Omega ElectroQuartz Clock
---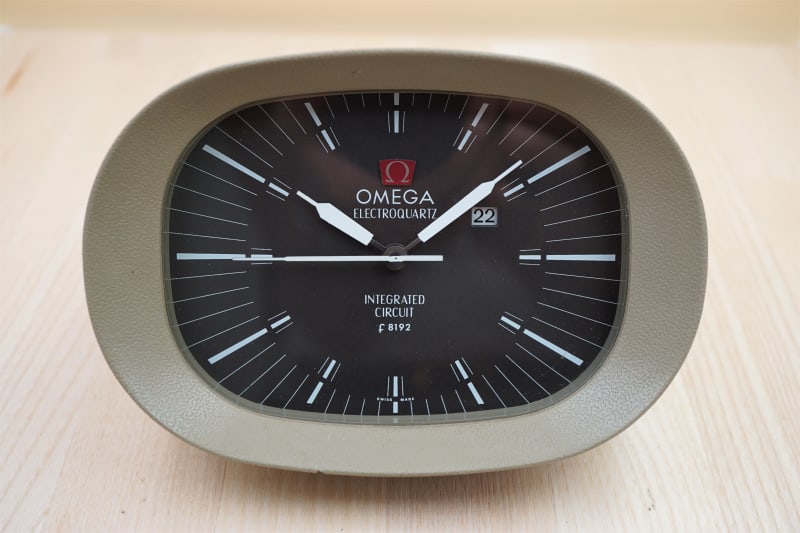 Wednesday, May 31, 2023
The Omega ElectroQuartz f8'192Hz is the first publicly sold Quartz-Clock by Omega (and probably in Switzerland at all). A horological milestone, an industrial-history artefact and Omegas first watch / clock made in January 1970 (serial numbers 32'005'XXX): dated to Jan-1970 and more than four month before the first Swiss quartz-watch Beta21 was released in April 1970 by Omega altogether with the joint-venture partners of CEH: IWC, Longines, Patek, Piaget, Rolex, Zenith and some others.
We assume Omega presented this clock asap in 1970 to not stand empty-handed for more than four months until Basel fair in April 1970 after Seiko had presented the Astron cal35 on White Christmas 1969. What an amazing horological artefact that documents the pressure generated by the competition from Far East. Besides this importance it should be noted, that the Omega clock used a more advanced stepper-motor already instead of the tuningfork-motor used for the Beta21 -- same as the Seiko Astron did already; just Omegas was a magnitude larger and not suitable for a watch. Clockwise.
And now guess what: It is an completely overlooked item, again. We dont wonder why and sure, this amazing story could be put in verbose-mode, but we leave this to others. Nonetheless, these reasons make us think this Omega is one of the most horological-important and -relevant Swiss clocks of the last six decades.