#SameOrDifferent: Rolex Texano Beta21 vs King Midas
---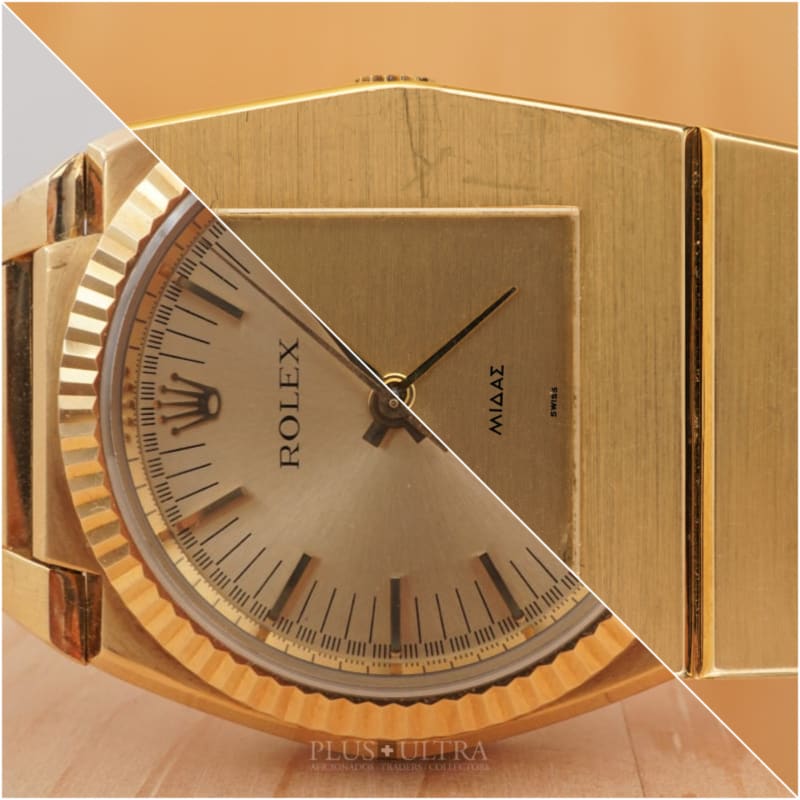 Monday, March 13, 2023
This is our series: Same or Different. Something we all know from comparing google.maps to good orientation but this time it's more royal.
On first sight both of the most unusual Rolex´ seem to be completely different:
big and chunky Rolex ref5100 Texano Beta21 (40mm diameter, 13mm height) vs slim, edgy and thin Rolex ref9630 King Midas (27mm diameter, 5mm height);
quartz driven pioneer Beta21 calRE10 vs super-thin manual movement cal650 in its late stages of evolution;
symmetric precedessor of the OysterQuartz vs asymmetric stand-alone icon;
But in detail both have much more in common than what meets the eye initially:
both are impressive on the wrist and (hand-)made of 18K gold -- no steel, no jokes;
both share approx the same weight of 180 to 200 grams;
both were made in the 1970s -- well, the Midas-Series started ten years before, in 1961 but was produced until 1972;
both come on an integrated bracelet, that makes them a singular monolithic object of art;
both stand out of the product portfolio of Rolex until today and both are like no other Rolex on their very own -- both were design experiments;
both were admired at their time and owned & worn by stars and the most important Rolex customers, but were overlooked for quite a long time and until today, given their relevance and importance for the brand;
both use a sapphire crystal: the Midas was the first Rolex ever making use of a back-then (1961!) high-tech sapphire glas, while anything else was delivered with a plastic windshield (or maybe mineral glass) back then; but this is no surprise: the Rolex Midas was the highest quality watch-series that left their manufacture in the 1960s and 1970s;
both were made in a limited series of 1'000 watches, with the King Midas being closed in 1972 after 10 years way before reaching even 800 examples;
both share approx the same proportion of yellow gold to white gold examples: 800 yellow- + 200 whitegold for the Texano vs <700 + 144 for the Midas;
both lost a significant share to the smelter in the last five decades, although the Midas probably even more than the Texano: from market research, we assume that approx 30% of all Texano are no longer existent and more than 50% of the original Midas ref9630 were smelted over last five decades and especially in the 1980s; so they are not only important Rolex' but also belong to a rare and endangered species outside of the steel-universe;
So, we for sure missed one or the other aspect, but even given this (imperfect) list of arguments and similarities, it comes striking that both watches today are not only among the rarest Rolex series, but have a similar importance for the brand by marking cornerstones of their activities and innovations aside from their usual watches.
---
See the other parts in this series here: #SameOrDifferent