Piaget -- Second to None.
---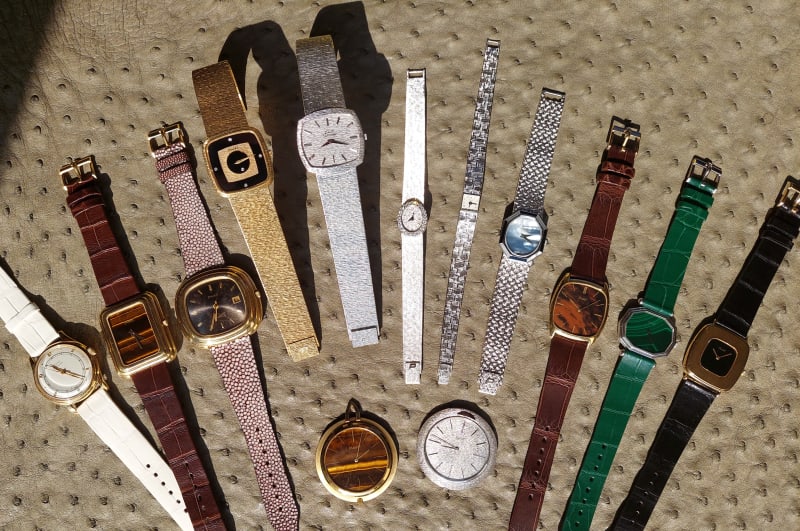 Monday, January 9, 2023
We always like to walk the roads less travelled and Piaget as a brand is not always in full focus of the watch community, to say the least. Overlooked and neglected and no serious competition for the top-dogs like Patek, Audemars, Vacheron and Cartier, right? Not so fast! There might be some misunderstandings and eventually not every aspect is taken into account to make such valuation. For us, this comes as a slight surprise, given some (maybe less known, but nevertheless true) facts about the brand from La-Cote-Aux-Fees, Switzerland and especially for their 60s to early 1990s watches. Piaget was not only very innovative but produced the highest quality watches in the biggest variety in this time:
They were and probably still are the undisputed masters of stone dials. Onyx, malachite, coral, jade, lapis lazuli, tiger or hawk eye (Rolex names it falcons eye now, innovative) -- everything and one combined with the other was set by Piaget to create unique and highest quality watches. And it doesnt come as a surprise: stone dials are unthinkable without Piaget and when you look for mosaic or two- and multi-stone dials there is simply no way around Piaget.
The diamond setting (Pavee dials or case setting), the cases and the bracelets were hand-made by their artisans and are second to none. As were their surface finishings: hand-hammered, engraved or chiseled: all made in the highest quality and to make most of the incoming light.
Their developments in technology are remarkable as well: the cal9P is not only one of the smallest (once the thinnest) manual watch-movements but also one with superb reliability and being still built and used today. The automatic cal12P is a thin and reliable milestone as well, not to speak about the cal20P (being the thinnest manual of all time) and their modern innovations, like the cal910P. Their innovations in quartz-movements is outstanding as well: Not only they were one of the biggest shareholder in CEH Beta21 project -- the first Swiss quartz-movement -- but also their watches housing this oversized electronic pioneer could be named the most iconic and ones of the highest quality -- beating the celebrated Patek Beta21s in many quality-aspects. And they went on: The mid-70s presented cal7P is without doubt the basis for their success in the following years and the engine for their late 70s and 80s icons.
The brand was connected to Art, Show Business and High Society like no other in the 70s, 80s and early 90s -- and also because they were the best in that era: the most innovative and the most creative watch-brand producing in highest quality. Second to none.
Yes, and all this was made in-house by their own artisans: In-house skills to set apart.
Now, compare this to Cartiers, APs, VCs or even to Pateks from that time -- while Piaget made everything in their manufacture as a fully integrated watch brand, we dont have to speak about Cartier regarding this, as it is widely known Cartier sourced almost all parts (cases, dials and movements) from 3rd party suppliers. And even Patek, the "un-touchable" brand and holy reference when it comes to vintage watches, bought all the watch-cases from 3rd parties in this period: made by Swiss case makers like Spillmann SA, Wenger SA or Ateliers Reunis SA (the latter was acquired by Patek Philippe in the late 1990s to now integrate case-making inhouse). Yes, thats how it was. The dials Patek used were often Stern Cadran made or sourced from Beyeler and even the movements are sometimes, not all and not the majority to be fair, fine-tuned Ebauches: the Patek cal175 being a Piguet cal21 and the Patek cal28-255 is nothing else but a decorated JLC cal920 -- plus a new name, just to make sure.
And it is obvious: You cannot set apart when you buy what everyone can buy, 3rd party on the market. And do you think Spillman or another case-maker made better cases for Patek than for Audemars or Vacheron? So, Piaget went a very different route and it did so very early: while Piaget was traditionally a movement-maker, they made them always by themselves and beginning in the 60s they also made dials, cases and bracelets by their own -- a watchmaker, fully integrated. In 1969 already, Piaget acquired the celebrated bracelet-maker Ponti Gennari. Decades before Patek Philippe and Rolex joined the beaten path to build and monopolise the expertise in-house (buying Atelier Reunis, Gay Freres etc) -- late and not without having seen the success of this strategy at Piaget.
Switch to today: Vintage Piagets are treated neglectfully but when you bring a Patek (in a 3rd party case & dial) from the 60s with a Ponti Gennari-bracelet, then the watch-club is on fire -- time to put the light on. So it comes as no surprise, we are sure this is THE brand in vintage watches in 2023: Piaget.
#makePiagetGreatAgain