The Beauty Within -- Patek Philippe Caliber 350
---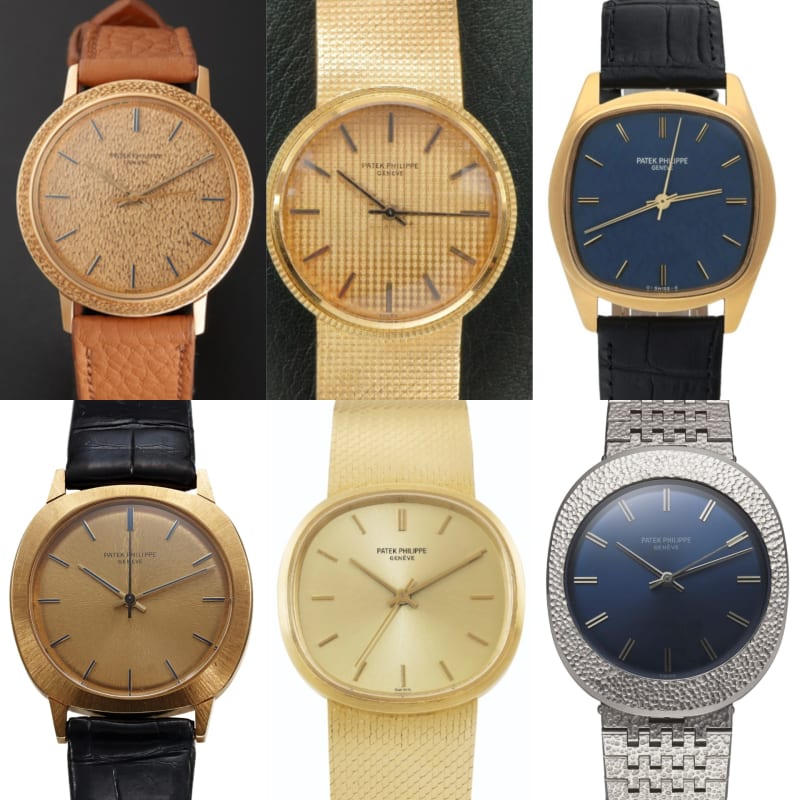 Thursday, May 5, 2022
Yes, without doubt these were the most beautiful Pateks ever created. Three hands and no gimmicks or useless complications: Just time to the second. The reader now can argue: for you, maybe but not for me. And I always welcome critics, sure but not so fast: This is only true to some extend, as beauty is always in the eye of beholder, sure. But not in every aspect: Beauty could be measured and usually comes with symmetry. And the most symmetric Pateks ever made simply have no crown ----- or at least it is not visible when the watch is worn since it is applied on the case back: The Patek Philippe caliber 350. See all the six references made with this overlooked but outstanding caliber on the photo -- one more beautiful than the other next to it and very obvious: Patek in its heydays.
The cal350: Technically for sure at least delicate but a very brave and interesting approach to 1) get a symmetric watch case and 2) remove the winding stem from the peripheral rotors circular track.
A remake of these 1970s beauties would not only meet the current Zeitgeist (VC222 remake, AP Royal Oak anniversary, Rolex stone dials, Piagets remakes etc) but could also add a strong and spicy note to the lately quite lame Patek portfolio. Bring watches, that are on their own and unmistakable, again.
Ad1) And if you go for such, Patek and I am quite sure you will, then please make the brand print on the dial super minimal as only a unmistakable watch can bear: see here.
Hodinkee wrote in Nov 2020 a more technical but important article about the cal350, too: see here.