#SameOrDifferent: Vintage PP vs VC
---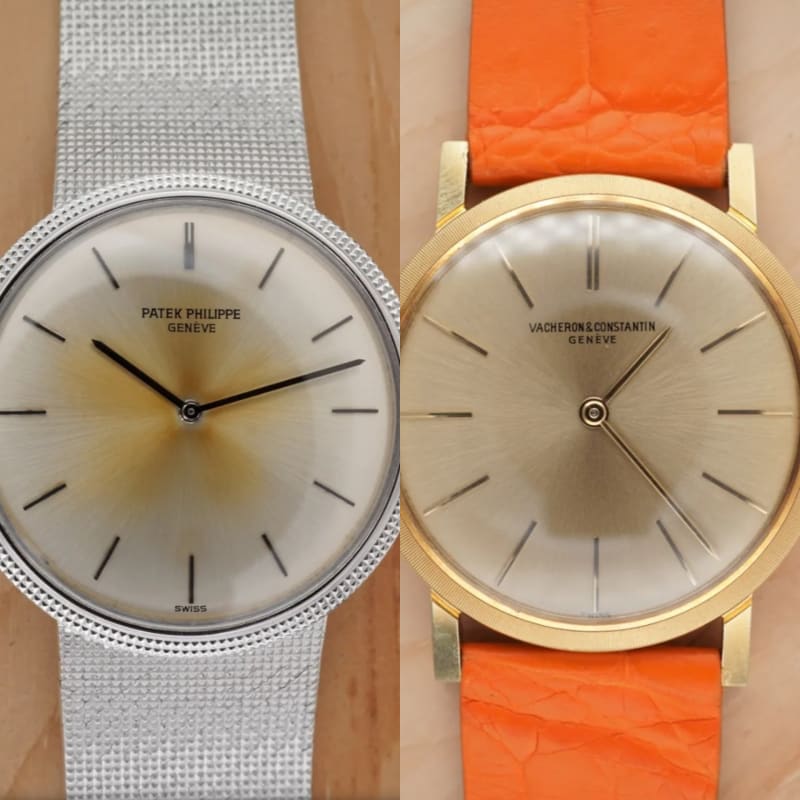 Monday, April 4, 2022
This is our new series: Same or Different. Something we all know from Sesame Street but this time its... Well, it's more horological.
No question, Patek Philippe had an absolute prime position in the 1960s to 1980s -- they chose the best case makers located in Geneva and around and although third parties and not in-house manufactured their choice was always the best. The bracelets connected to these cases for a PP watch were also not made in their manufacture, but usually hand-manufactured by the master of polonaise and milanaise bracelets Jean-Pierre Ecoffey. And their movements -- now, these were manufactured by PP -- didnt stand short. And obviously they were also good at putting all these ingridients together and make it a complete watch -- the proof is around in their beautiful classy vintage watches.
Yes, but Vacheron Constantin had its merits as well: They choose similar high quality case makers and goldsmiths and overall does not stand short in terms of quality. Even more, they were brave enough to start automatic movements some years earlier than Patek with their JLC developed bumper caliber 477, while PP was still waiting for the intellectual protection of rotor automatics (held by Rolex) to end in 1953. Besides that Vacheron was making their engine turned dials pieces of art, rather than more or less boring and similar looking simple watch-faces.
So, overall some plus here and some minus there makes it a very equal race for the vintage pieces. But without doubt the market puts PP in the front seat by far and the biggest difference between both brands today is probably the family owned maison on the one side and the clog-wheel in the Richemont conglomerate on the other and there is good reason to assume, this makes the difference.
Ad1) The photo shows a Patek 3520 and a Vacheron 6351. Both share the same dimensions, an equally carefully designed and created case and a very similar movement. Patek cal175, which is not a Patek movement, although named so, but a Piguet cal21 -- to our understanding the most relevant manual caliber of all time: here. And the Vacheron uses a cal1003 -- by the way derived from the same Piguet cal21, obviously. Now, do you find the most significant difference in both watches?
---
See the other parts in this series here: #SameOrDifferent