Beware of Patek NautEllipse!
---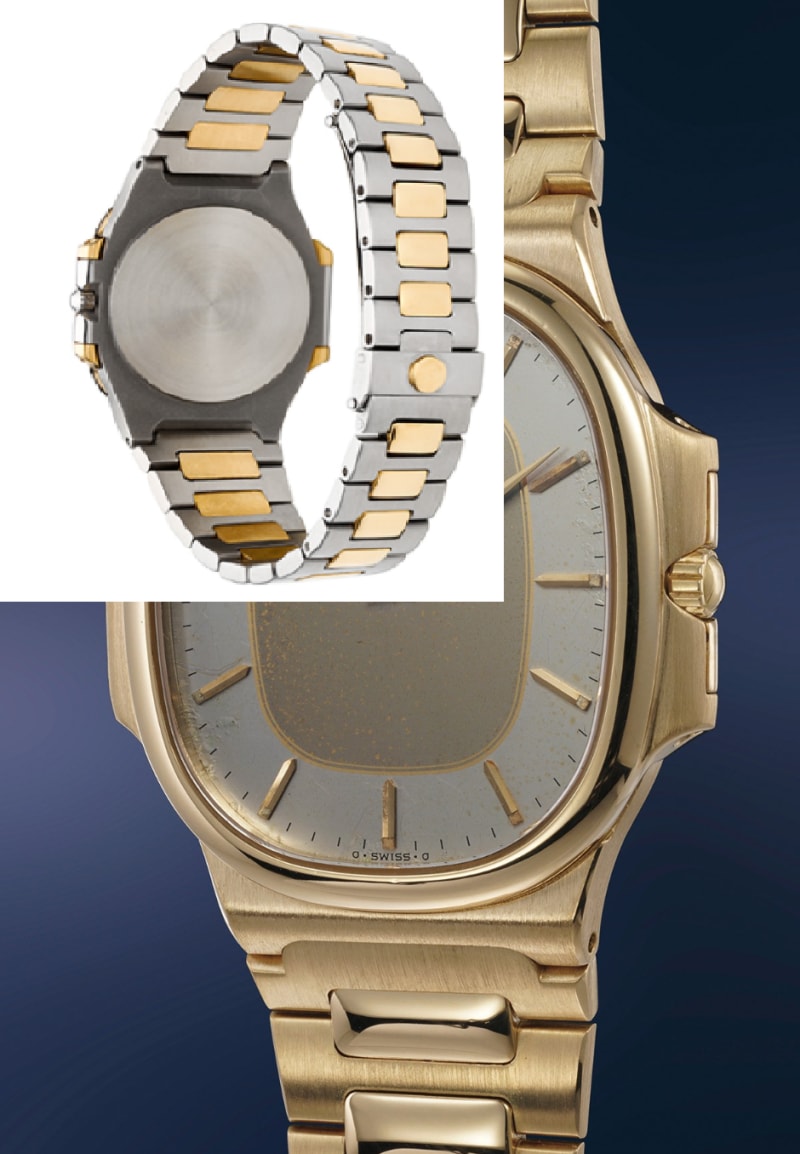 Friday, March 4, 2022
We all know -- the Patek Nautilus was a late starter in end of 70s, while the top dog in Pateks offerings was the Ellipse at that time. Sure, Patek was a little late bringing the Genta designed Nautilus to participate from the steel sportswatch-cake that was served by AP, JLC and VC. And to get a share of that, Patek simply merged both designs by Gerald Genta -- blockbuster Ellipse & non-performer Nautilus -- to boost the new sportwatch ref3700, that was not getting on its feet by itself and stood dark in the shadow of the Royal Oak etc.
Anyway, the mix of Nautilus & Ellipse Patek ref3770 is known as Nautillipse (or Ellipsilus) -- none of both icons is in there full but both bring a significant part to the beautiful watch and this is reflected by its unofficial name as well. Fine.
Now, beware! If somebody shows you a NautEllipse you should better look twice: Often enough the name signals we have more parts of Ellipse in such a watch than Nautilus genes, as the Ellipse is named in full, while the Nautilus lost another letter. But what you get is often enough the opposite: much more Nautilus than Ellipse -- that's the case, when the bracelet is a standard Nautilus bracelet with the writing Nautilus in the clasp. Such a bracelet was probably supplied by Patek during serivce, maybe because they ran out of the original and unmistakable ref3770 Nautillipse bracelets and had to offer anything whenever an active customer sent his worn out Patek ref3770 to Geneva.
Anyway, such a NautEllipse bracelet (ie. the standard Nautilus bracelet) is far from original to this reference Patek3770 -- irrelevant, which pragmatic bypass the manufacture in Geneva used, to hide the shortage and irrelevant when nowadays someone calls it original to that ref3770. It is not. It is an aftermarket bracelet and even worse, it is not the correct one.
The original and only bracelet ever shown in any relevant document issued by Patek (catalogue, magazines and ads) is the one with the ellipsoid interlinks -- and not the rectangular ones, like with Nautilus. A bracelet that was used solely for the Patek ref3770 Nautillipse aka Ellipsilus and that makes it so unmistakable -- by the way, the only Patek reference that you can easily identify by just one or two links of its bracelet.
Ad1) And by the way, the reason Patek ran out of these bracelets supplied by Gay Freres was not only that this bracelet was unique to the Nautillipse ref3770 but that this watch was made in approx 300 pieces, only. The rarest Nautilus reference by far.