#SameOrDifferent: VC ref42001 vs JLC ref24001
---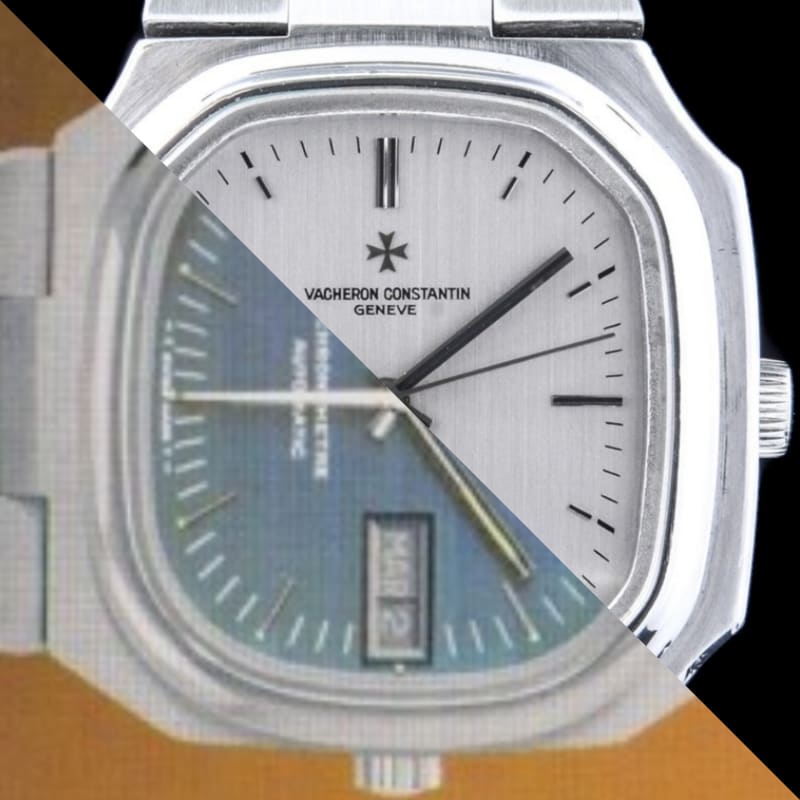 Sunday, November 7, 2021
This is our series: Same or Different. Dancing in Public & Comparing Pears to Apples is Allowed Since We Know: All Is Relative.
Steel sportwatch genealogy & the answer to the question, where does the Vacheron & Constantin Chronometre Royal ref42001 come from and what role does it play? Some say, the VC Chronometre Royal ref42001 is the inspiration for the shape of the porthole inspired Patek Nautilus ref3700 -- and when we put the 1975 debuting VC next to the 1977 arriving Patek, there seems to be good reason to think so.
That elevates the VC to a very important chronometer grade watch: invented as a bastion to quartz and thus equipped with one of the best, most expensive and innovative automatic movements available -- the Jaeger LeCoultre cal906: antimagnetic and swinging at a higher frequency than the JLC cal920 (the base for the AP cal2120 workhorse used by VC & PP as well) -- it seems to be the ancestor of one of the most iconic and important watch of all time, the Patek Nautilus.
While this opinion might be disputable, there seems to be no doubt that the 1975 presented VC is basically the 1973 debuting JLC MasterMariner flipped by 90 degrees:
Both sport steel watches share the same chronometer grade high quality automatic movement, the JLC cal906 that was made in less than 1'000 examples in total.
Both were positioned on top of the line of mechanical watches, the manufacturers had to offer.
Both share the same minute and hour hands -- exactly.
The 1973 JLC is reference 24001 while the 1975 VC was given the name reference 42001. Creativity & Chuzpe Swiss Made for a watch flipped by 90 degrees.
The dimensions are exactly the same, not to mention the style of the bezel.
Even the date window was flipped by 90 degrees and is not at 3 but 6 o'clock at the VC.
And how the VC with its wings and the octagonal bezel corresponds to the Nautilus is at this point left to the reader.
---
See the other parts in this series here: #SameOrDifferent