Beta21 -- How Many Bulova?
---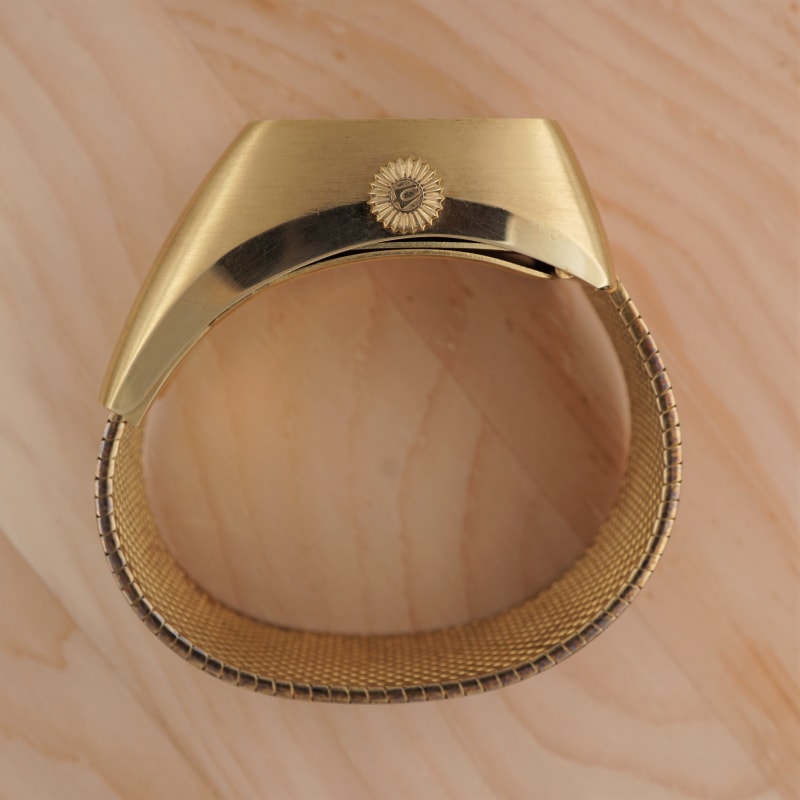 Tuesday, September 1, 2020
In total 6'000 Beta21 movements were made by C.E.H. and distributed according to a pre-defined share between participants. Now, how many were made for Bulova?
Bulova was one of the smaller contributors to the joint venture project Beta21. So they received just a small share of the total made 6'000 movements: 100.
These were marked caliber 10EACD AccuQuartz and split between two different heavy solid 18K gold cases in a probably similar ratio: One with a round dial in cushion shaped case and another one with a rectangular dial and the case with some similarities to Omegas Beta21 'Pupitre' but with a elongated head, that coils around the wrist -- and is heavier than Omegas Beta21. The design seems to be the template for the H.R. Giger designed heads of the extraterrestrial creatures in Ridley Scotts 1979 classic Alien -- Bulova 'Alien Head'.
The cases were made by case manufacture Favre & Perret SA in La-Chaux-de-Fonds, Switzerland and just a very few of these watches came with a solid gold milanaise bracelet instead of a leather strap. The topping: The milanaise style piece of art and its clasp was made by the top bracelet-manufacturer Jean-Pierre Ecoffey. The closing mechanism is probably one of the most unusual ever: lifting the watch case opens the folding clasp, that is hidden below the elongated Alien head-case and leaves the bracelet itself completely free of a clasp that might disturb the eye.
Back to the Bulova Beta21 story. The reason they just bet a small sum on this joint venture quartz development was easy: this was just a backup in case their own research would not be successful. They were developing their own AccuQuartz movement, that worked in a very similar way like Beta21 -- quartz as a impulse generator and the tuning fork mechanism just for making the hands move / sweep.
As is widely known, these 100 produced pieces sold 1970 almost immediately -- although these were the most expensive watches the manufacturer had offered in 1970. And after these limited numbers had been delivered to the most important customers and Bulova ran out of movements they were able to provide the industrial manufactured much smaller AccuQuartz cal224 from 1972 until the end of 1970s.
The Bulova Beta21 watches share the same destiny as many solid gold Omega Beta21: the fact they are not considered very beautiful and they are very heavy and not made by Rolex or Patek Philippe, these were smelted in a bigger portion than any other watch. And that makes a Beta21 Bulova one of the rarest find when you look out for Beta21 -- much rarer than Rolex Beta21 and Patek Beta21.