Beta21 -- How Many Rolex?
---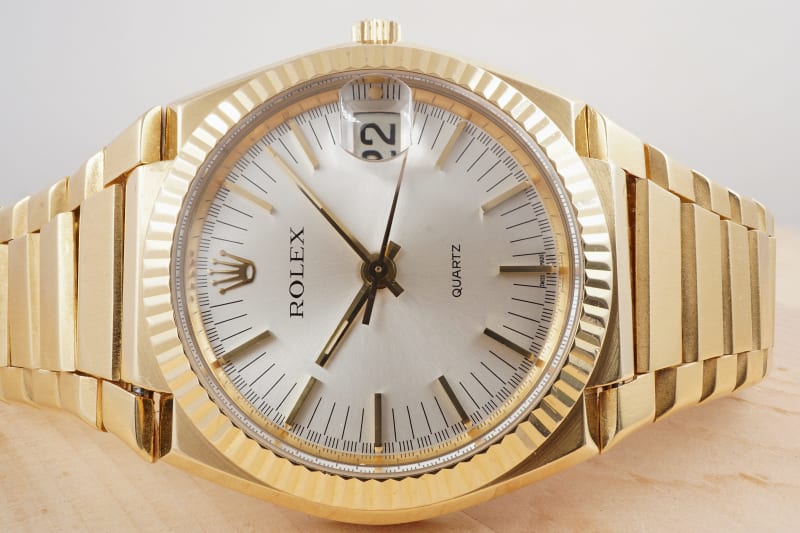 Tuesday, May 5, 2020
In total 6'000 Beta21 movements were made by C.E.H. and distributed according to a pre-defined share between participants. Now, how many were made for Rolex?
The obvious answer is easy: 1'000 and all movements were put into their massive gold ref5100 aka 'Texano' -- 830 in yellow gold and 170 in white gold.
And all of them have a hand-engraved serial number. The case was made by popular supplier and case maker Baumgartner for all 1'000 and the reference was 5100 unchanged for all. It was connected to a massive gold bracelet: The first 300 came with a more complicated and more delicate bracelet with a folding clasp, which was changed for the remaining 300 to a more massive version with a president-bracelet-like clasp.
ANNEX: And this leads to the more detailed answer. The first three-hundred (with the 1st batch bracelet) were made with a true Beta21 movement produced by CEH joint venture (6'000 in total with 300 or 5% for Rolex), while the latter 700 Rolex ref5100 were married to the Omega produced Beta22 movement, to satisfy customer demand after 1972.
So, as with Omega, Patek, IWC, Piaget and some others it is the same with Rolex: A true Rolex Beta21 first quartz watch has a serial number engraved of 300 or less. All else is a successor, that shares the appearance and weight and design and reference number but was technological outdated upon arrival.