1920 Patina-Dial Doublesigned White Gold Ulysse Nardin
Ulysse Nardin 1920 White Gold Pocket Watch, Doublesigned: Leicht-Mayer
---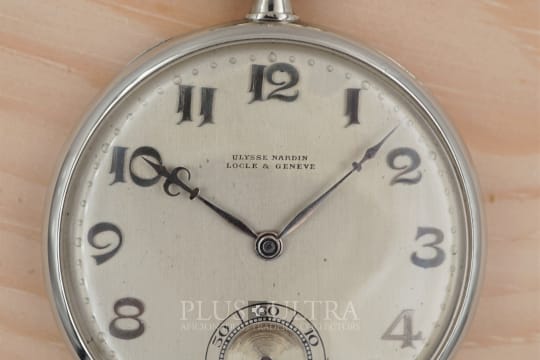 Info
Model:
1920 White Gold Pocket Watch, Doublesigned: Leicht-Mayer
---
Movement
Functions:
Time (Hour, Minute, Small Second)
---
Case
The condition of this 1920 gem is outstanding! Some signs of wear, some signs of the times -- but hey, this is early 20th century and more than 100 years old. A 18K white gold pocket watch from this era is not only very rare but in this condition almost impossible to find -- Ulysse Nardin. And this is even further enhanced by the fact it is double signed by E. Leicht-Mayer Cie., Lucerne -- a once popular and important jeweler based in the city on the beautiful lake.
Inside works a 17''' Ulysse Nardin cal8 -- perfect after our service. And on the obviously original and not refurbished dial the applied hand-made numbers are just beautiful. This was for sure a non-bling but high priced companion of a gentlemen in the roaring 1920s.
---
More Ulysse Nardin Watches