Lip R27: Electrique en Or, Prestige de la France
Lip Electrique en Or: DeGaulle & Prestige de la France, R27
---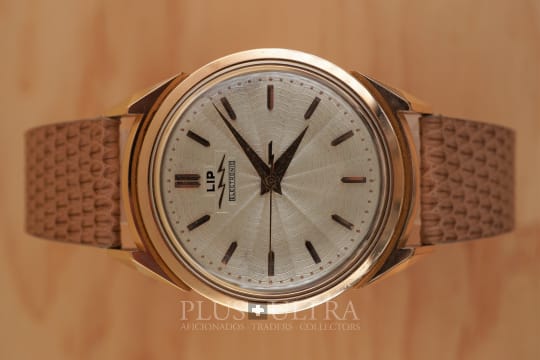 Info
Model
Electrique en Or: DeGaulle & Prestige de la France, R27
Delivery
Watch, Paper and Box
---
Movement
Functions
Time (Hour, Minute, Central Second)
---
Case
Bracelet
Leather with Original Buckle
Dial Color
Guilloche / Engine Turned
1958, a world recognized innovation from France in lavish and highest quality execution and functionality. Probably one of the most important French watches from the last 70 years: Technique from tomorrow for the todays Man, as the advert points it out.
Now, is this the first electronic watch (as it is written on its dial) or just an (important) enhancement of the fragile and delicate Elgin / Hamilton electric movements?
We can find good arguments for either position -- see our blog August 2, 2021. But for sure the Lip ref607 R27 is one of the most important french watches ever, a true pioneer, a rare jewel, a french icon and one of the most beautiful watches of the 20th century. The engine turned dial is just one part of its lavish appearance. One more is the heavy rose gold case with strong facets. Or the solid rose gold buckle, indexes and hands. And the Hermes made original leather box with dark green linen inside is another, for sure. Highest quality in every aspect and not comparable to a Hamilton watch.
Vacheron made a watch "Prestige de la France" -- but no matter whats the name of it: This Lip for sure is it, the true Prestige de la France.
And this specific example is a small miracle: produced and sold in 1958 by the Neufchateau based Jeweler Pernot-Fixary and just a few serial numbers after the exact same watch Lip ref607 R27 that was handed to General Charles DeGaulle in 1958. And we are even more proud, we can offer not only in fantastic condition but in an astonishing full set: inner and outer box (made by Hermes!), manual & guarantee & service (1965) paper, hang tag (showing the 1958 price of Frs160'000) and original strap and buckle in rose gold. Buckle & case clear and deep stamped with the french 18K eagle stamp.
We were happy to fully service this beautiful Lip R27 (see last photos) and to make it a precise and reliable runner. Guaranteed and to enjoy.
Besides this, we deliver the watch with a thin but durable lizard strap, that is to our eye a much better fit to this watch. But of course, this is subjective and it wears similar impressive with the original strap or any other as well, sure.
---
More Lip Watches