French Ladies Bracelet Blancpain X UTI
Blancpain Backwinder Duoplan Bracelet Ladies Diamonds Jewel, DoubleSigned: UTI
---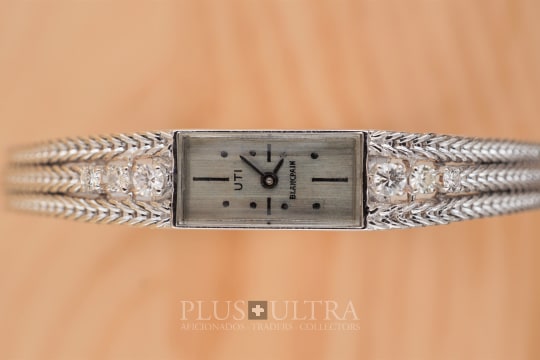 Info
Model:
Backwinder Duoplan Bracelet Ladies Diamonds Jewel, DoubleSigned: UTI
---
Movement
---
Case
This jewel is dated to the 1940s: The small duoplan backwinder movement Blancpain-Rayville R59 is cased in a fantastic preserved rectangular 18K white gold case, connected to three streams of woven white gold ribbons. Decorated originally with two time three diamonds -- sparkling and giving the extra spritz to this high quality french jewel.
The clasp is very interesting and extra-high quality giving an idea of the overall excellent tailoring. A masterpiece!