The 2nd Most Important Vintage Piaget
---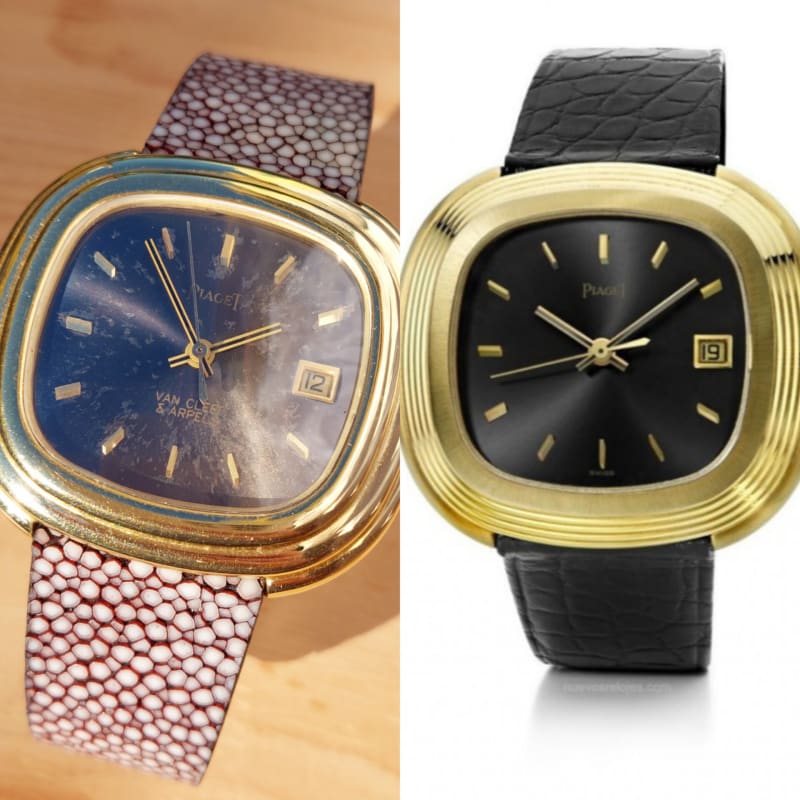 Saturday, August 5, 2023
Yes, without doubt the most important vintage Piaget is the Black Tie Beta21 ref15102 that was owned by Andy Warhol (right side, 1973) -- a watch that is very characteristic in its appearance; might be a central and brand-defining icon for the years ahead; was horological relevant and brought and still resembles the glamour of the Yves Piaget-forged Piaget-Society in just one artefact, no doubt.
But that said, the 2nd most important vintage Piaget seems to be the direct precedessor of this Warhol-Piaget: The original VCA-sold Black Tie, ref15101 (left side, 1971). Why?
it is the father of the Warhol-Watch: the genetic source-code of the modern Black Tie;
it shares the exact same hands & dial, that was used on the Warhol-Watch -- although it has some oxidation: dark sunburst with the Piaget-signature 3D-indexes;
it was sold in New York 1971 and so two years before the Warhol-timepiece, that was sold 1973 in New York, also;
it is doublesigned by Van Cleef & Arpels -- the most important partner for Piaget in late '60s and '70s and the address-book for the later Piaget-Society;
it is not only the 1st Swiss quartz-watch but also Piagets direct technological precedessor of the quartz-caliber Piaget 7P -- one of the three technological pillars that had been the foundation of the brands upward move until reaching the top in the '80s: cal9P, cal12P and the cal7P;
even more, it is not possible to note without a smile, that -- given the strict limitation and the low quantities produced of the original Black Tie (ref15101): we assume <80 pieces -- Andy Warhol simply did not get the original but had to be statisfied with the unlimited successor ref15102; smile, yes but dont laugh out loud: because this is by the way an overlooked fact and reason for the so called Beta22-variants: Piaget (ref14102, ref15102), Patek (ref3597, 3603), Omega, Rolex and IWC all used the not CEH- but Omega-produced and slightly modified movements for their 2nd production-batch of quartz-watches;
All that is interesting and makes this specific ref15101 indeed a very relevant Piaget -- in some aspects superior than the Warhol-watch. But it misses one aspect: While the successor was owned by one of the most glamorous persons of the Piaget-Society, the originals owner is unknown -- so far.
Ad 1) The spots on the ref15101 are indeed oxidation and there is some indication that even the Warhol-Watch would not look like it currently does, without some refurbishment in the past. Needless to point out this would be possible to do with the originals dial as well; but also needless to point out that we will not do it;