Superior Beta21: Piaget Black Tie
---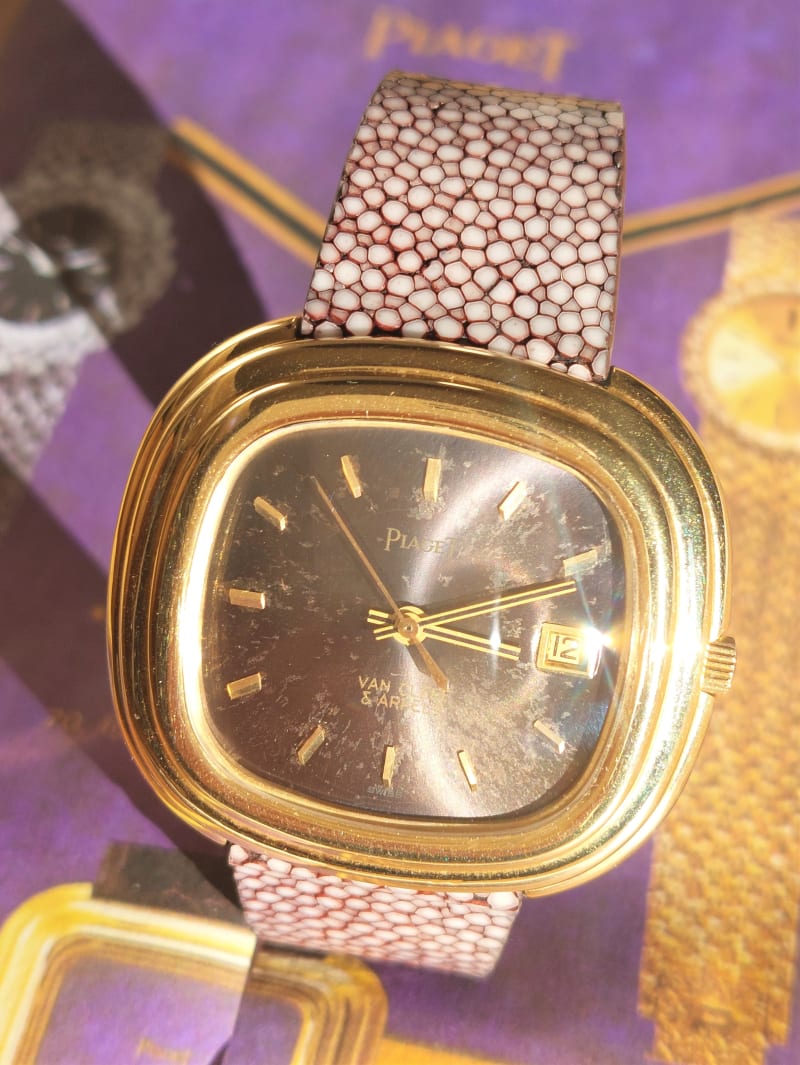 Saturday, January 14, 2023
Piaget was under stress in early 1970 to finish their Beta21-case and dial before the opening of Basle fair in April of the same year, yes. All the Swiss watchbrands felt it and the pressure came from Seiko, Japan. Stress or not, Piaget stayed with their policy to make everything in-house and so they made it without sourcing dial or case by third-party suppliers as their competitors Patek and Rolex and nearly all other CEH Beta21-participants did:
own 18K case, heavy and oversized to fit the grand-rectangular quartz-pioneer-movement;
own dials: stone (malachite, tiger-eye, onyx or lapis) or artisan deep-dials, the Piaget-signature -- here
glasses: sapphire-crystals flat outside but domed inside for a superb light-effect
And Piaget did so very well. The 1st Black Tie reached perfection early, sharing the title "Highest Quality Beta21" with the Rolex Beta21 ref5100 Texano, which reaches the same quality level for the watch. Yes, for the watch only, as the first generation bracelet of the Rolex Texano supplied by Gay Freres shows some significant signs of misconception: hollow and too weak for the heavy watch -- an obvious failure. And so it is rare as hens teeth to find a Rolex ref5100 in the up to 300s serial with first generation bracelet in very good condition, not welded and not repaired.
Speaking about quality, you ask for the quality of the celebrated Patek Philippe Beta21 ref3587? Now, lets say it has some flaws and we will bring in some light to this delicate topic later.
Whats so special about the Piaget and its quality? Obviously, everything fits and is made by artisans and well thought. Not only that the dial fits the case -- which is not the case with Beta21 by every brand --, the movement holder is perfectly fitting and made of 18K solid gold. Heavy and no costs spared. So, no question: by quality the Piaget Beta21 Black Tie is holding the top-position.
But its design stands short against the Patek, the Rolex and some others, you say? Would you say the same, when the Patek Philippe branding would decorate the Black Tie and the Piaget print would mark the Patek ref3587? Sure, the design is subjective and so we will not judge here, but one last word regarding the design: obviously the beauty of the Piaget Black Tie allured Andy Warhol (he had the 5-stepped-case successor Beta22 Black Tie), as one of the most characteristic watches in his collection, and it was used in a celebrated and successful re-edition by Piaget in 2015. So, at least some people seem to like it.
Rarity or overflow? Now, in total Piaget made 400 Beta21 (here) -- not more than Patek --, but these split to 320 in the rectangular ref14101 version and only 80 of the cushion-shaped Black Tie variant, making the latter, shown here, one of the rarest Beta21.
And all this combined, we call superior.