L'Excellence Française de l'Ingénierie et de la Conception
---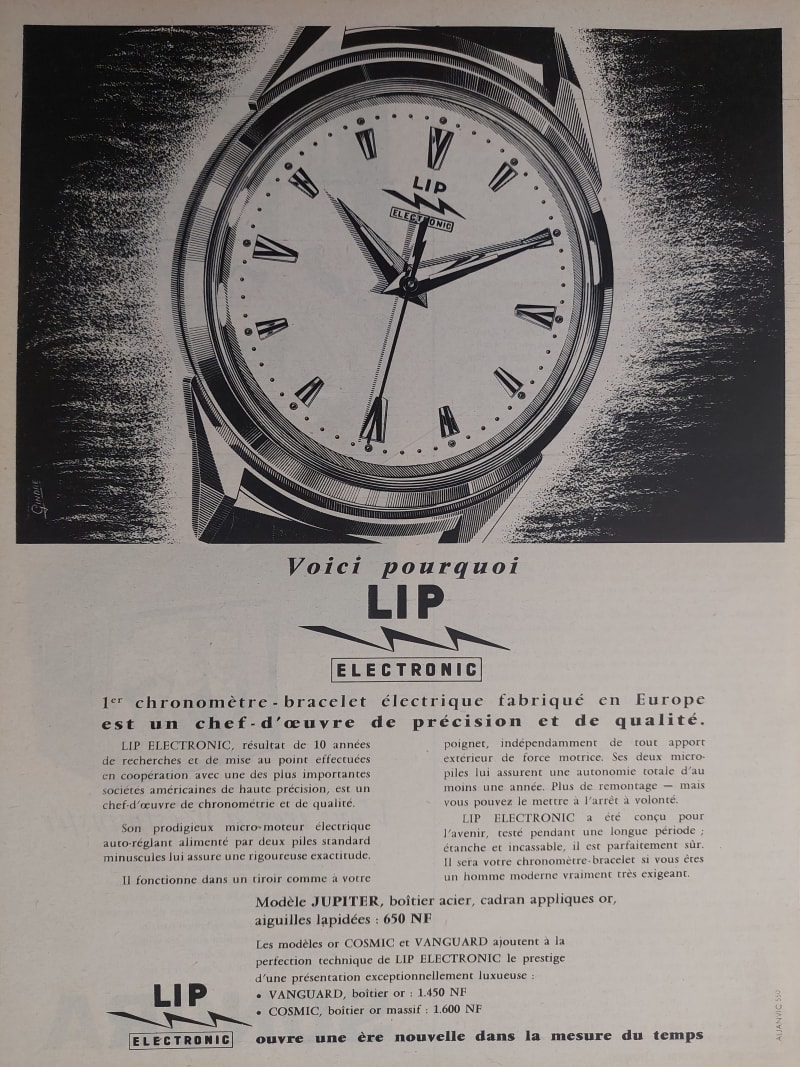 Monday, August 8, 2022
* The English Text Is Below *
Cette montre prend du temps -- il faut du temps pour comprendre son importance et son rôle extraordinaire: dans l'horlogerie, dans les jalons du design, dans l'histoire industrielle et dans l'auto-évaluation nationale (française). La Lip référence 603, calibre R27, c'est probablement la montre française la plus importante des 100 dernières années. Il est en or rose massif 18 carats, lourd. Il est livré avec un somptueux cadran guilloché. Elle était reliée à sa boucle 18K d'origine par un bracelet en alligator de haute qualité et présentée dans un coffret en cuir fait main avec intérieur en lin vert: par Hermès (!sic). Il contient deux (!) Piles bouton pour le faire fonctionner au moins 10 mois. Et pour obtenir l'extraordinaire mouvement bien conçu et conçu à l'intérieur à côté de ces deux piles, les ingénieurs et designers français ont utilisé une conception marquante: optiquement, la petite partie en haut et en bas et les cornes ont été déconnectées du boîtier et du cadran parfaitement ronds -- mais ce n'est pas visible de face, mais juste de dos ou à l'œil exercé. Bravo!
Techniquement, il est arrivé quelques semaines seulement après le mouvement électrique le plus populaire, le Hamilton cal500. Mais quelle différence entre le produit français et le produit américain: non seulement le design est complètement différent mais le cal500 américain Hamilton ne tient littéralement qu'à une ficelle (ou deux), tandis que le R27 français est un compagnon fiable et encore aujourd'hui habituellement de travail. Oui, et le cas... c'est généralement - si un Hamilton est trouvé en or massif (14K !) - une fine feuille enveloppant le cal500 par rapport à un bloc d'or solide et lourd protégeant le calR27.
---
This watch takes some time -- it takes some time to understand its importance and extraordinary role: in horology, in design-milestones, in industrial-history and in national (French) self assessment. The Lip reference 603, caliber R27 -- it is probably the most important French watch in the last 100 years. It is solid 18K rose gold, heavy. It comes with a lavish guilloche dial. It was connected to its original 18K buckle by a high quality alligator strap and presented in a hand-made leather box with green linen inside: by Hermes (!sic). It holds two (!) button cell batteries for making it run at least 10 months. And to get the extraordinary well designed and engineered movement inside next to these two batteries, the French engineers and designers used a milestone-design: optically the small part on top and bottom and the lugs were disconnected from the perfectly round case and dial -- but this is not visible from the front, but just from the back or to the trained eye. Bravo!
Technically it arrived just a handful of weeks after the more popular electric movement, the Hamilton cal500. But what a difference between the French and the American product: not only the design is completely different but the American Hamilton cal500 literally hangs on a string (or two), while the French R27 is a reliable and even today usually working companion. Yes, and the case... it is usually -- if a Hamilton is found in solid gold (14K!) -- a thin foil wrapping the cal500 versus a solid heavy gold block protecting the calR27.
Les Français savaient tout cela et étaient fiers de leurs réalisations -- et je suis sûr qu'il n'y a pas eu beaucoup de discussions nécessaires pour qu'Hermès rejoigne le projet français.
Ad 1) The secrets this watch reveals over time are incredible -- either it reveals so slow or we are slow-thinkers with not being able to recognize everything immediately: But no matter how -- there are some things with this watch that makes it in our eyes the one of the most innovative (role-model) & and thus important (especially in 18K solid gold, you know our mantra) watch of the 2nd half of the 20th century. We will reveal this in a future article. Guaranteed.