#SameOrDifferent: JLC Master Mariner vs VC 222
---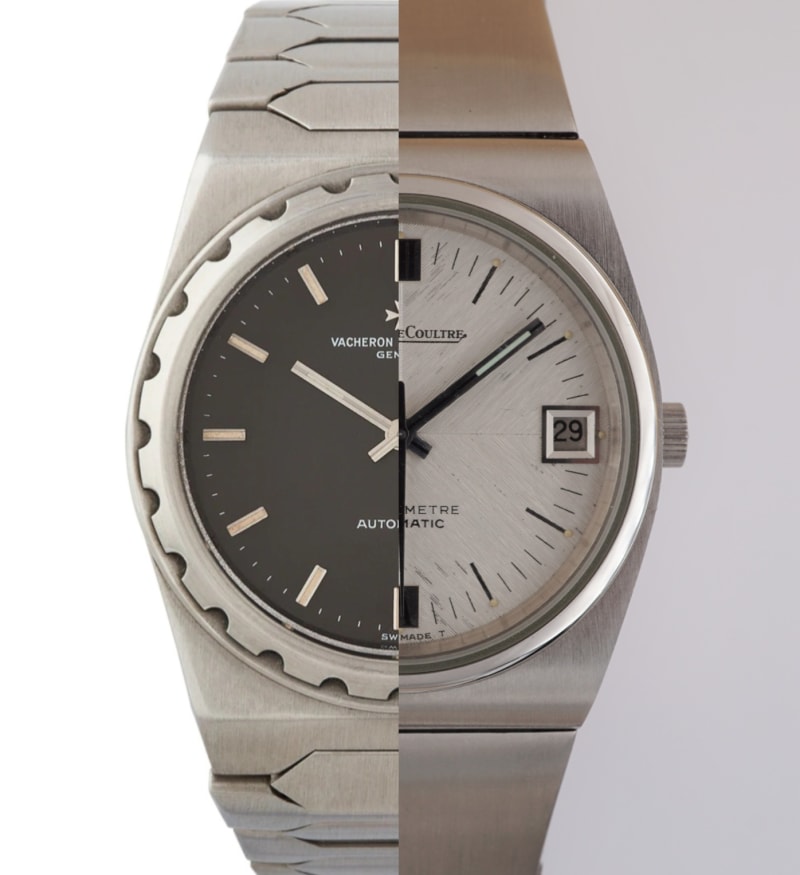 Monday, March 7, 2022
This is our series: Same or Different. Comparing is Allowed Since We Know: All Is Relative.
1973 vs 1977, JLC vs VC: We know Vacheron copied the 1973 Jaeger LeCoultre ref24001 to make its ref42001 (!sic) Chronometre Royal three years later (see here) and it seems like they didnt stop here to take elements from JLC: the "Hysek-Designed" VC 222 shares not only minute- and hour-hands with the Master Mariner ref24000 but also the shape and exact dimensions -- four years later. And one should be fair and dont make a mistake by viewing through the hindsight glasses: Today many (not to say almost all) watches look very similar to each other and this role model especially, but back then in mid 1970s it was a unusual exception with the Patek Nautilus not yet shown and sportchic being an upcoming and innovative stream. Both, JLC24000 and the VC are rare steel sportchic watches, with many similarities but one big difference: the VC 222 being a celebrated superstar, today and its genetic ancestor from JLC being so far completely overlooked.
Well, it might be a very Swiss thing: But we strongly support the underdog in general and this is no exception. We look to buy JLC ref24000 and ref24001 in any material -- if you have any please send us a message.
How is this possible and why no one recognised, so far? Well, the JLC ref24000 and ref24001 were produced just little more than one year in 500 examples each. When the VC siblings were presented 3 respective 4 years later, the ancestors / originals by JLC were simply not in any display-window, anymore.
---
See the other parts in this series here: #SameOrDifferent